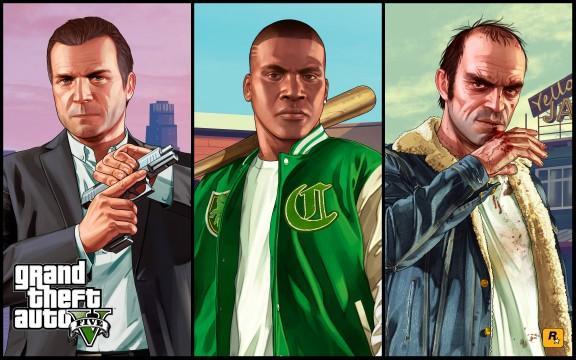 Release Date

November 18, 2014

Game Edition

GTA OnlineGTA V Story Mode

Platforms

PlayStation 4

Xbox One
Grand Theft Auto V is now available for an entirely new generation of players on PlayStation 4 and Xbox One.
Players visiting Los Santos and Blaine County on PS4 and Xbox One will experience the all-new First Person Mode, support for up to 30-players in GTA Online, as well as a vast range of major visual and technical upgrades.
These include new activities, wildlife, denser traffic, enhanced damage and weather effects, a tremendous soundtrack update with over 100 additional new songs, and much more.
A host of new content has also been introduced exclusively for the Next Gen versions of GTA V as a Bonus for players returning from the PS3 and Xbox 360 versions.
New Features & Content
First Person Mode
Seamless integration of new First Person Mode in Grand Theft Auto V and Grand Theft Auto Online, including fully customizable controls, targeting, FOV, and more.
This comes with new first-person cockpit views for vehicles, with fully re-modeled interiors, including working speedometers, gas dials, radio, and instrument panel lighting.
See the full details on the GTA V First Person Experience (with Video & Screenshots).
Game Upgrades & Enhancements
Visual and technical upgrades for the PlayStation 4, Xbox One, and PC versions of Grand Theft Auto V and GTA Online, include:
Increased resolution at 1080p at 30fps, 4K compatible for PC
More than double the draw distance
New depth of field effects
High-resolution textures
Enhanced radio selections with over 150 new songs plus new DJ mixes and talk radio
Denser traffic
Improved weather effects and lighting
Improved damage effects
Vehicles and weapons from GTA Online Updates are now available in Story Mode
Animals in the world now have soft fur
And more!
See the Full List of GTA V Enhancements for PS4, Xbox One, and PC
GTA Online Enhancements:
Increased player count to 30 players with an additional 2 spectators
Completely overhauled Character Creator to allow players a greater range of customization.
Over 120 new props added to the Creator tools for players to use in creating their own content
Doubled the amount of props allowed in created matches
Exclusive Content for Returning GTA V & GTA Online Players:
A host of new exclusive content awaits returning players from the PlayStation 3 and Xbox 360 versions:
New Vehicles, including the Dodo Seaplane, the Duke O'Death, the Marshall Monster Truck, and the Xero Blimp.
New Weapons (Rail Gun & Hatchet) and Shooting Range Challenges
Monkey Mosaics collectibles
New Events & Rewards
...and more
See the full details and screenshots on all the exclusive content for Returning GTA V Players on PS4, Xbox One and PC.
New Vehicles
New Weapons
New Weapons and Shooting Range Challenges: The Railgun & the Hatchet.
Next Gen Screenshots & RP Bonus
Next Gen Artworks
Next Gen Videos