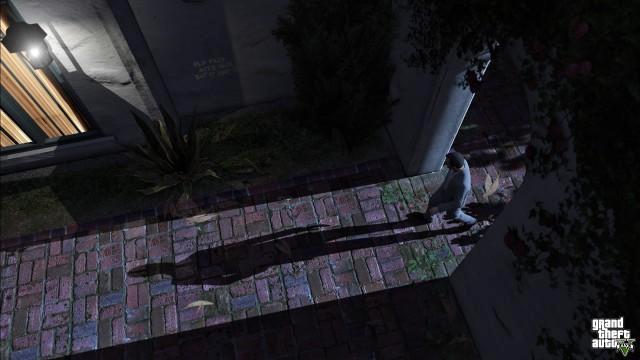 Murder Mystery is a side-activity present in Grand Theft Auto V, available only in the enhanced version (PS4, Xbox One, and PC) for players returning from the PS3 or Xbox 360 edition.
The mystery revolves around a murder connected to the film industry. Unlike other missions in the game, Michael does not receive any introductory message informing him about the mission. There are multiple clues to be discovered, to enable finding the murder victim in order to complete the mission.
This is an optional endeavor, not required for 100% Completion of the game.
Murder Mystery: First Clue
Michael must locate four different cryptic messages carved on the walls of various buildings in Los Santos. Once approaching a message, a sound will indicate that the message has been discovered.
"Old Fred acts nice, but it ain't so!" - Near the pool at the Gentry Manor Hotel
"David Richards knows." - at the Galileo Observatory
"Fred makes cartoons for kids, funny thing considering what he hid." - at the City Hall in Alta
"Ain't no mystery. They drowned her because of what she knew!" - next to the Oriental Theater in Downtown Vinewood
After locating all four messages, the player will receive further instructions for the next two clues:
"Track down the sunken body off the west coast"
"Find a damning letter on a desk of a friend"
Murder Mystery: Second Clue
Find the sunken body of a woman off the coast by Fort Zancudo, near the bow of a sunken Olifantus Tug boat.
To reach the body, use the Submersible, the Kraken, or a Scuba Suit.
Murder Mystery: Third Clue
The player needs to access Solomon Richard's office at Richards Majestic to read the letter on his desk. The studio can only be accessed between 21:00 and 6:00 after the completion of Meltdown. If the player approaches during the day, they will be told that Solomon's office is busy and to come back later.
The letter, dated August 14, 1949, is written by Fred Quincy and addressed to David Richards. In the letter, Quincy confesses to the murder of an associate named Isaac, whose body is hidden in a mine in the hills.
The letter also implies that the sunken body is of Quincy's secretary, who was killed by him after she threatened to blackmail him.
Solving the Mystery
Michael is now free to locate the murder victim.
There is an abandoned mine in the Great Chaparral with a boarded door. Michael can destroy the door using a heavy weapon or an explosive to enter.
Isaac's body can be found further inside the shaft, and once his body is found, the mystery is solved.
Murder Mystery: Reward
Once the mystery has been solved, two noir filters for the Snapmatic will be added to each protagonist's phone.
These filters can also be activated as gameplay overlays by dialing Isaac's contact on the cellphone.
Murder Mystery: Activity Info
Rewards

Two noir Snapmatic filters.
Murder Mystery: Video Walkthrough