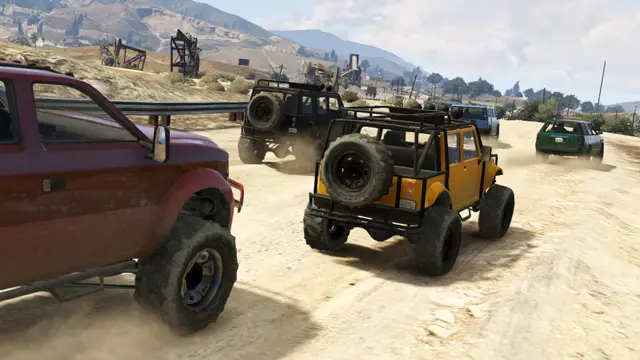 Offroad Races are a series of point-to-point races on off-road terrain present in Grand Theft Auto V. There are two races to complete with off-road trucks and four races with bikes.
Completing a race rewards the player with $500 and unlocks the next one. Finishing 3rd place or better in all races is required for 100% Completion of the game.
Any protagonist can compete, and winning the first race awards the respective character with a Moto X outfit to equip from their wardrobe.
Off-Road Races: list
Here is the list of the 6 off-road races in GTA V, in the order they are unlocked:
Canyon Cliffs (Bike Race)
Starts in Raton Canyon and follows the road all the way to the Alamo Sea. Can be completed on a Motorcycle or an ATV.
Ridge Run (SUV Race)
The race is fairly short, but the off-road trucks are heavy and hard to control on downhill turns. The toughest of the six races to complete in first place.
Mineward Spiral (Bike Race)
Circles around the quarry several times, presenting some possibly confusing checkpoints to the player.
Valley Trail (Bike Race)
Is exactly the same as the Canyon Cliffs race, albeit in reverse. Avoid making very sharp turns to win the race.
Lakeside Splash (Bike Race)
Located on the shoreside of Sandy Shores. Avoid the water to keep speed and win the race.
Eco Friendly (SUV Race)
A race around the RON Alternate Winds Farm. Avoid hitting the metal poles and keep it on track to win the race.
Off-Road Races: Activity Info
Mission Type

Hobbies & Pastimes

Protagonist (Playable)

Michael De SantaFranklin ClintonTrevor Philips

State / Area

Blaine County

Available After Mission (Story Mode)

Required for 100%

Yes
Game Edition

GTA V Story Mode

Platforms

PC

PlayStation 4

Xbox One

PlayStation 3

Xbox 360
Off-Road Races: Video Walkthrough