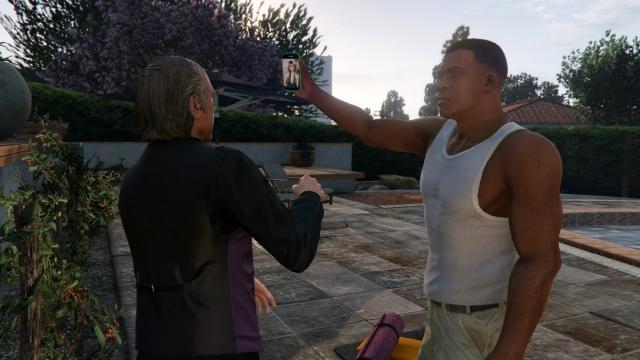 A Starlet in Vinewood is a Strangers & Freaks side mission in Grand Theft Auto V given by Peter Dreyfuss , involving protagonist Franklin Clinton .
The mission is Unlocked by finding all 50 letter scraps.
Being a Franklin mission, this Strangers & Freaks mission is required for 100% completion of the game.
A Starlet in Vinewood - Mission Details:
Franklin gets revenge on Peter Dreyfuss for murdering Leonora Johnson.
After finding all 50 letter scraps, Franklin discovers it was Peter Dreyfuss, an old director, that murdered Leonara Johnson. Franklin goes to Peter's house in Vinewood Hills to confront him.
Once Peter realises why Franklin is there, he panics and flees his house. Franklin can either kill him or let him go to live with the guilt.
Gold Medal Objectives (100%)
The following are the Mission Objectives required to obtain the Gold Medal in the mission "A Starlet in Vinewood":
Note: You can complete each Gold Medal requirement in multiple playthroughs of the mission. You don't need to obtain them all in one single playthrough.
A Starlet in Vinewood: Mission Objectives
Kill or spare Peter Dreyfuss
A Starlet in Vinewood: Mission Info
A Starlet in Vinewood: Videos
PS3 / Xbox 360: Gold Medal Video Walkthrough
PC: Gold Medal Video Walkthrough