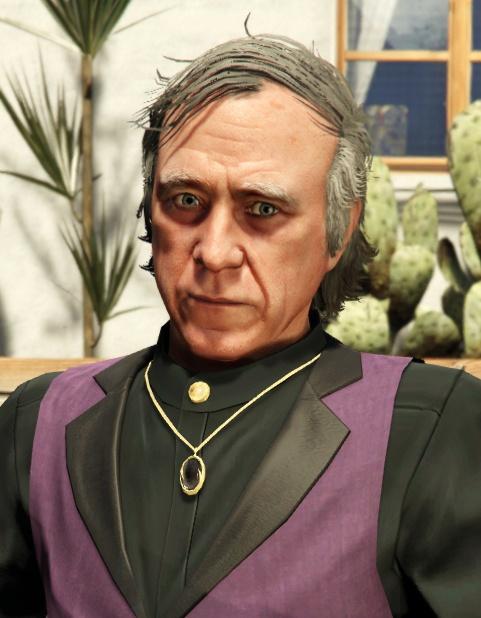 Peter Dreyfuss is a character that appears as a Stranger & Freaks in Grand Theft Auto V.
Peter Dreyfuss was a movie director in the 1970s, but left the film industry after his last movie, "Last Will and Testament" was a failure at the box office. He is one of the honored celebrities on the Vinewood Boulevard Walk of Fame.
During his absence from cinema, his films began to gain a cult following, his image seeing a renewal in popularity, being called one of the "last masterminds of American cinema". In 1975, Dreyfuss tortured and killed Leonora Johnson. Afterward, he wrote a confession letter to David Richards, stating that he had to kill her for "artistic purposes". Richards tore up the letter and scattered the pieces across Los Santos and Blaine County.
After the fifty pieces of the confession letter are collected by Franklin Clinton, he can visit Dreyfuss' house to confront him. Dreyfuss denies involvement and tries to bribe Franklin, then attempts to run away. During the chase, Peter makes many incoherent claims, attempting to justify the murder.
Peter Dreyfuss: Character Info
Role

Stranger & Freaks

Gender

Male

Born In Year

1950 (63 years old in 2013)

Nationality

United States

Location

Ace Jones Drive, Vinewood Hills, Los Santos

Occupation

Film Directing

Performer / Actor

Richard Hughes

Vehicle
Peter Dreyfuss: Appearances
Game Edition

GTA V Story Mode

Platforms

PC

PlayStation 4

Xbox One

PlayStation 3

Xbox 360
Peter Dreyfuss Missions in Grand Theft Auto V: