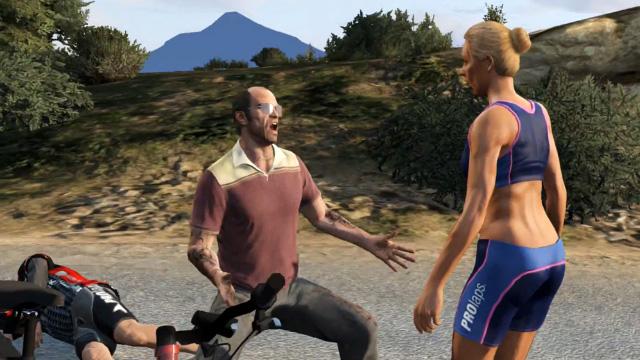 Exercising Demons - Trevor is a Strangers & Freaks side mission in Grand Theft Auto V given by Mary-Ann Quinn , involving protagonist Trevor Philips .
The mission becomes available after completing the Reuniting the Family story mission.
It's the 3° mission for Mary-Ann Quinn , after the Exercising Demons - Franklin mission.
This is an optional mission, not required for 100% completion of the game.
Exercising Demons - Trevor - Mission Details:
Trevor races Mary-Ann downhill on a Bike.
Trevor approaches Mary-Ann near the Vinewood Sign. She is currently having a go at a man dressed up in cycling clothes. It seems like she is breaking up with him but never gives the chance for the man to retaliate. Trevor, overhearing the situation, hits the man and declares his love for Mary-Ann. He hugs her and asks to take her away from all of this.
Mary-Ann pushes Trevor off of her and calls him a psycho. He calls her 'the craziest chick he's ever met' but she says they have nothing in common. Trevor states they're made for each other and Mary-Ann asks him to prove it on the bike.
The pair race down past the Vinewood Sign and along the hillside. When Trevor wins, he asks for a sex reward. Mary-Ann, disgusted, bikes away.
Gold Medal Objectives (100%)
The following are the Mission Objectives required to obtain the Gold Medal in the mission "Exercising Demons - Trevor":
Good Cyclist: Don't anger Mary-Ann by cycling into her
Quick Win: With the race within 01:42
Note: You can complete each Gold Medal requirement in multiple playthroughs of the mission. You don't need to obtain them all in one single playthrough.
Exercising Demons - Trevor: Mission Objectives
Exercising Demons - Trevor: Mission Info
Exercising Demons - Trevor: Videos
PS3 / Xbox 360: Gold Medal Video Walkthrough
PC: Gold Medal Video Walkthrough