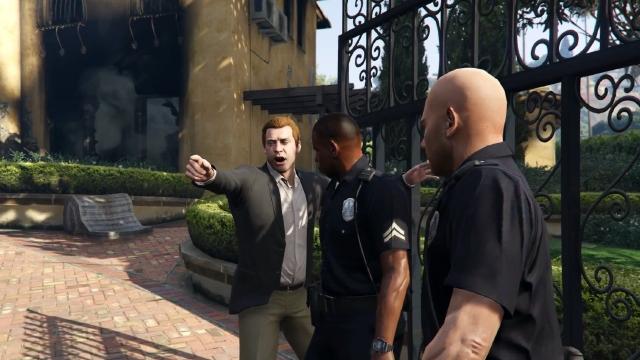 Breach of Contract is a Strangers & Freaks side mission in Grand Theft Auto V given by Josh Bernstein, involving protagonist Trevor Philips.
It's the 4° mission for Josh Bernstein, after the Surreal Estate mission.
This is an optional mission, not required for 100% completion of the game.
Breach of Contract - Mission Details:
Trevor finds out Josh is handing his information to the police, so he decides his fate.
Trevor approaches Josh's old house on West Eclipse Boulevard. Josh is being interviewed by two policemen about what happened to his house. Trevor notices Josh is describing Trevor as the one that destroyed his house.
Josh sees Trevor approaching and tells the police he's the one that has done it. The police side with Josh which then puts a two-star wanted level on Trevor. Trevor must now lose the cops. He can kill Josh, before escaping, for his betrayal.
Gold Medal Objectives (100%)
The following are the Mission Objectives required to obtain the Gold Medal in the mission "Breach of Contract":
Dirty Rat: Kill Josh
Hot Pursuit: Escape in the Police Interceptor
Note: You can complete each Gold Medal requirement in multiple playthroughs of the mission. You don't need to obtain them all in one single playthrough.
Breach of Contract: Mission Objectives
Breach of Contract: Mission Info
Mission Type

Strangers and Freaks

Mission Giver

Josh Bernstein

Protagonist (Playable)

Trevor Philips

Location

West Eclipse Boulevard, Rockford Hills

State / Area

Los Santos

Required for 100%

No
Breach of Contract: Videos
PS3 / Xbox 360: Gold Medal Video Walkthrough
PC: Gold Medal Video Walkthrough