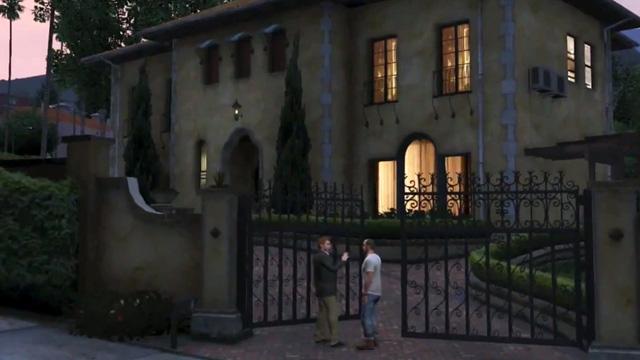 Extra Commission is a Strangers & Freaks side mission in Grand Theft Auto V given by Josh Bernstein, involving protagonist Trevor Philips.
The mission becomes available after completing the Hang Ten story mission.
It's the first mission for Josh Bernstein.
This is an optional mission, not required for 100% completion of the game.
Extra Commission - Mission Details:
Trevor destroys Lenny Avery's "For Sale" signs for Josh Bernstein.
Trevor approaches a gated mansion on West Eclipse Boulevard. Josh Bernstein, a real estate agent, sees Trevor and attempts to sell Trevor the house. However, the house was actually previosuly Josh's and now in foreclosure. Josh also tells Trevor that he used to sell houses like this all the time but his old best friend, Lenny Avery, has stolen all his clients.
Josh task Trevor will taking out 15 of Lenny's "For Sale" signs around the city. Josh says he can find Trevor a beautiful women for "bouncy bouncy" in exchange for his work.
Gold Medal Objectives (100%)
There are no Gold requirements for this mission.
Extra Commission: Mission Objectives
Destroy all 15 of Lenny's "For Sale" signs located around the northern area of Los Santos.
Extra Commission: Mission Info
Mission Type

Strangers and Freaks

Mission Giver

Josh Bernstein

Protagonist (Playable)

Trevor Philips

Location

West Eclipse Boulevard, Rockford Hills

State / Area

Los Santos

Available After Mission (Story Mode)

Required for 100%

No
Notes

Not required for 100% completion of the game. The mission cannot be replayed afterwards, as it's just a trigger for a collectible quest
Extra Commission: Videos
PS3 / Xbox 360: Gold Medal Video Walkthrough
PC: Gold Medal Video Walkthrough