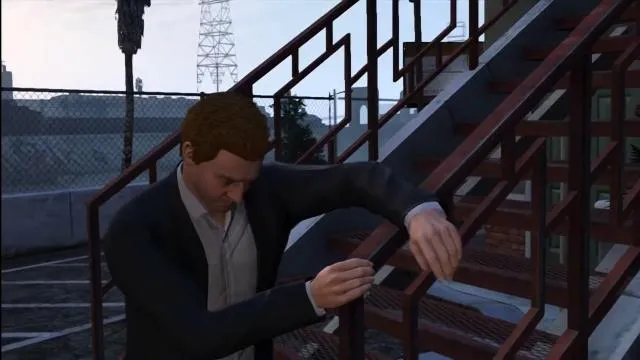 Closing the Deal is a Strangers & Freaks side mission in Grand Theft Auto V given by Josh Bernstein, involving protagonist Trevor Philips.
It's the 2° mission for Josh Bernstein, after the Extra Commission mission.
This is an optional mission, not required for 100% completion of the game.
Closing the Deal - Mission Details:
Trevor is asked to intimidate Lenny Avery for Josh.
Once Trevor has dealt with all 15 "For Sale" signs, he heads back to Josh, who is at the Billingsgate Motel. Josh tells Trevor he's earned his reward and tells him to head up to room nine, where a woman is waiting for him. Trevor leaves the room the next day and Josh has another task for Trevor.
He wants Trevor to give Lenny a little scare. Lenny is currently meeting with a client at Rockford Hills. On Trevor's way over, Josh calls him to tell him Lenny drives a green Comet, to help Trevor spot him and also that he's called Lenny to tell him Trevor is coming.
Trevor finds Lenny and starts chasing him. Eventually, Lenny will give up the chase and pull up on the side of the road. Lenny gets out of the car and Trevor starts to beat him up. Lenny cowers and says he'll do anything to which Trevor tells him to stay away from Josh's business.
Gold Medal Objectives (100%)
The following are the Mission Objectives required to obtain the Gold Medal in the mission "Closing the Deal":
Pulverizer: Use a melee weapon to beat up Avery

One melee strike is enough, as any more will kill Avery.

Seized: Stop Avery's car within 40 seconds

Using a submachine gun on Avery's car will force him to pull over and exit.
Note: You can complete each Gold Medal requirement in multiple playthroughs of the mission. You don't need to obtain them all in one single playthrough.
Closing the Deal: Mission Objectives
Find Avery in

Rockford Hills

.
Stop

Avery

.
Threaten

Avery

.
Closing the Deal: Mission Info
Mission Type

Strangers and Freaks

Mission Giver

Josh Bernstein

Protagonist (Playable)

Trevor Philips

Location

Bilingsgate Motel, Innocence Boulevard, Rancho

State / Area

Los Santos

Required for 100%

No
Featuring

CometLenny Avery
Closing the Deal: Videos
PS3 / Xbox 360: Gold Medal Video Walkthrough
PC: Gold Medal Video Walkthrough