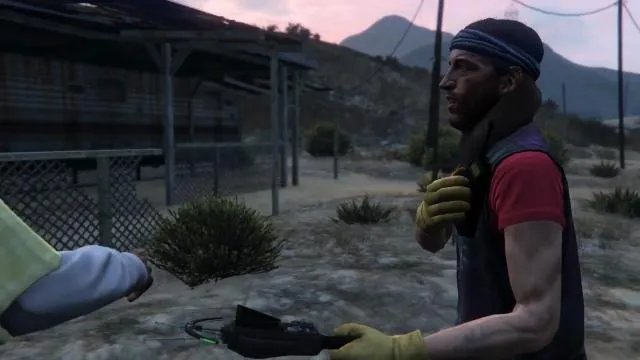 Far Out is a Strangers & Freaks side mission in Grand Theft Auto V given by Omega , involving protagonist Franklin Clinton .
The mission becomes available after completing the Fame Or Shame story mission.
It's the first mission for Omega .
Being a Franklin mission, this Strangers & Freaks mission is required for 100% completion of the game.
Far Out - Mission Details:
Omega scans Franklin and tells him about the Aliens that almost abducted him. He asks for help finding the pieces to their ship.
Franklin approaches Omega, a hippie who lives out in a trailer in the Grand Senora Desert. Omega is scanning a house with a device that he believes picks up extraterrestrial frequencies. He gets Franklin to stop and starts scanning him.
He eventually greets Franklin as CBL, Carbon Based Lifeform. He asks if Franklin has seen "them". Franklin asks who but Omega can't describe but says they came to him previously. He says they were about to abduct him and do experiments on him but their ship crashed.
Omega wants Franklin to collect the pieces of the spaceship that have been scattered throughout Los Santos, 50 in total.
Gold Medal Objectives (100%)
There are no Gold requirements for this mission.
Far Out: Mission ObjectiveS
Omega asks Franklin for help finding the pieces of their ship and displays an image of a Spaceship Part on his phone.
There are 50 well-hidden Spaceship parts to find for Omega. Once you've found them all, another Omega encounter unlocks.
See our dedicated guide on all the Spaceship Parts Locations in GTA 5.
Far Out: Mission Info
Mission Giver

Omega

Mission Type

Strangers and Freaks

Protagonist (Playable)

Franklin Clinton

Location

Omega's Trailer, East Sandy Shores

State / Area

Blaine County

Available After Mission (Story Mode)

Required for 100%

Yes
Rewards

Spaceship parts

Featuring

Hippies

Notes

Required for 100% completion of the game. The mission cannot be replayed afterwards, as it's just a trigger for a collectible quest.
Far Out: Videos
PS3 / Xbox 360: Gold Medal Video Walkthrough
PC: Gold Medal Video Walkthrough