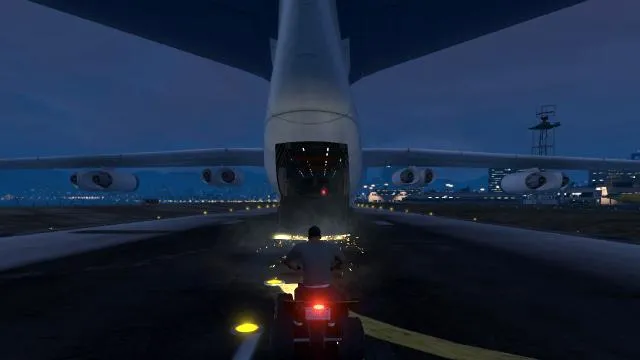 Liquidity Risk is a Strangers & Freaks side mission in Grand Theft Auto V given by Dom Beasley , involving protagonist Franklin Clinton .
It's the 2° mission for Dom Beasley , after the Risk Assessment mission.
Being a Franklin mission, this Strangers & Freaks mission is required for 100% completion of the game.
Liquidity Risk - Mission Details:
Franklin jumps from a cargo plane, riding a Blazer, with Dom.
Franklin meets Dom at Los Santos International Airport. The pair get on two Blazer quads and make their way onto the airport tarmac. They drive into the back of a cargo plane and the plane takes off.
Once the plane is at a suitable altitude, Dom and Franklin ride their quads out of the plane. After freefalling for a little while, the pair skydive down to the landing zone near the Alamo Sea. Dom's next adventure is at the top of the Maze Bank Building and asks Franklin to meet him there.
Gold Medal Objectives (100%)
The following are the Mission Objectives required to obtain the Gold Medal in the mission "Liquidity Risk":
Dive Bomber: Survive a water landing without opening the parachute

Franklin can only survive a water landing if he does not dismount the ATV. Using his special ability will reduce damage taken.

Sky Blazer: Perform 8 flips on the Blazer

Flipping forwards will allow quicker flips.
Sideways flips do not count.
Note: You can complete each Gold Medal requirement in multiple playthroughs of the mission. You don't need to obtain them all in one single playthrough.
Liquidity Risk: Mission Objectives
Ride your ATV out of the plane.
Skydive to the

landing zone

.
Go to the

landing zone

.
Liquidity Risk: Mission Info
Liquidity Risk: Videos
PS3 / Xbox 360: Gold Medal Video Walkthrough
PC: Gold Medal Video Walkthrough