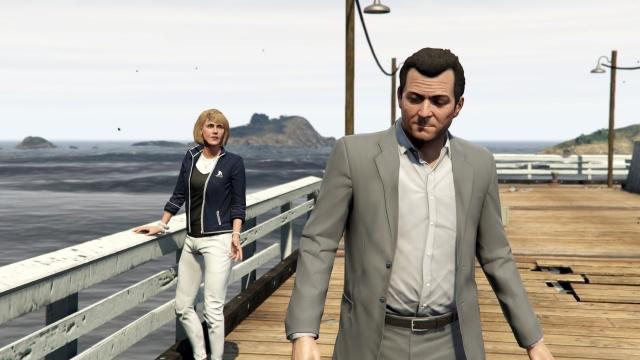 Death at Sea is a Strangers & Freaks side mission in Grand Theft Auto V given by Abigail Mathers, involving protagonist Michael De Santa.
The mission becomes available after completing the Blitz Play story mission.
It's the first mission for Abigail Mathers.
This is an optional mission, not required for 100% completion of the game.
Death at Sea - Mission Details:
Michael needs to find submarine pieces to prove Frank Mathers' airlock was not tampered with.
Michael meets Abigail at the Sonar Collections Dock. She asks Michael if he was a fan of Frank Mathers, a TV producer and environmentalist. Abigail tells Michael that he was her husband and was a "cruel and heartless man". He has left his sick wife and five kids to be with Abigail.
Abigail explains that she's now poor. Frank's submarine broke while he was trying to save the San Andreas white shark, causing his demise. To this day, his body was never found. Michael had heard in the news that someone tampered with the airlocks but Abigail stresses that was never proven, making her sound suspicious.
Abigail says she and Frank put a lot of money into life insurance but to be paid she needs to prove Frank is dead and that the airlocks weren't tampered with. She tasks Michael with finding the 30 missing pieces of Frank's submarine.
Note: This mission is only unlocked when the Sonar Collections Docks are purchased for $250,000
Gold Medal Objectives (100%)
There are no Gold requirements for this mission.
Death at Sea: Mission Objectives
Abigail asks Michael for help finding the pieces of his husband's submarine.
There are 30 Submarine Pieces to find in the ocean. Once you've found them all, another Abigail encounter unlocks.
Death at Sea: Mission Info
Mission Type

Strangers and Freaks

Mission Giver

Abigail Mathers

Protagonist (Playable)

Michael De Santa

Location

Sonar Collections Dock, Paleto Cove

State / Area

Blaine County

Available After Mission (Story Mode)

Required for 100%

No
Featuring

Dinghy (4-seater)Sonar Collections Dock

Notes

Not required for 100% completion of the game. Only available if Sonar Collections Dock is Purchased; The mission cannot be replayed afterwards, as it's just a trigger for a collectible quest.
Death at Sea: Videos
PS3 / Xbox 360: Gold Medal Video Walkthrough
PC: Gold Medal Video Walkthrough