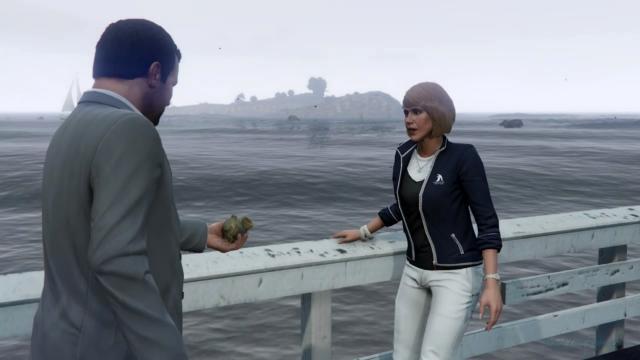 What Lies Beneath is a Strangers & Freaks side mission in Grand Theft Auto V given by Abigail Mathers, involving protagonist Michael De Santa.
The mission is Unlocked after finding all 30 Submarine Pieces.
It's the 2° mission for Abigail Mathers, after the Death at Sea mission.
This is an optional mission, not required for 100% completion of the game.
What Lies Beneath - Mission Details:
Michael finds out the airlock was indeed broken by Abigail and gets to choose her fate.
After finding all 30 submarine pieces, Michael returns to Abigail on the Sonar Collections Docks. Michael does think that the airlocks were tampered with. Abigail explains it'll just be general wear and tear.
Michael then says that there's a message on one of the pieces. It looks as if Frank wrote a message saying "someone tampered with the airlocks". Abigail says it must have been his ex-wife as she was a very bitter woman. Michael still thinks the whole situation is dodgy and Abigial agrees but is nervous saying she thinks the police are in on it and is getting the FIB involved.
Abigail starts to walk away but Michael asks for payment. She gives him $10 and a signed photo of Frank. Michael now has to decide whether to kill Abigail or spare her.
Gold Medal Objectives (100%)
There are no Gold requirements for this mission.
What Lies Beneath: Mission Objectives
Bring the submarine parts back to Abigail.
Kill or spare Abigail's life.
What Lies Beneath: Mission Info
Mission Type

Strangers and Freaks

Mission Giver

Abigail Mathers

Protagonist (Playable)

Michael De Santa

Location

Sonar Collections Dock, Paleto Cove

State / Area

Blaine County

How To Unlock

Unlocked after finding all 30 Submarine Pieces

Required for 100%

No
Rewards

$10; Declasse Asea (unique on Original Version)

Featuring

AseaSonar Collections Dock

Notes

Not required for 100% completion of the game. Only available if Sonar Collections Dock is Purchased; The mission cannot be replayed afterwards, as it's just a cutscene with a short interaction.
What Lies Beneath: Videos
PS3 / Xbox 360: Gold Medal Video Walkthrough
PC: Gold Medal Video Walkthrough