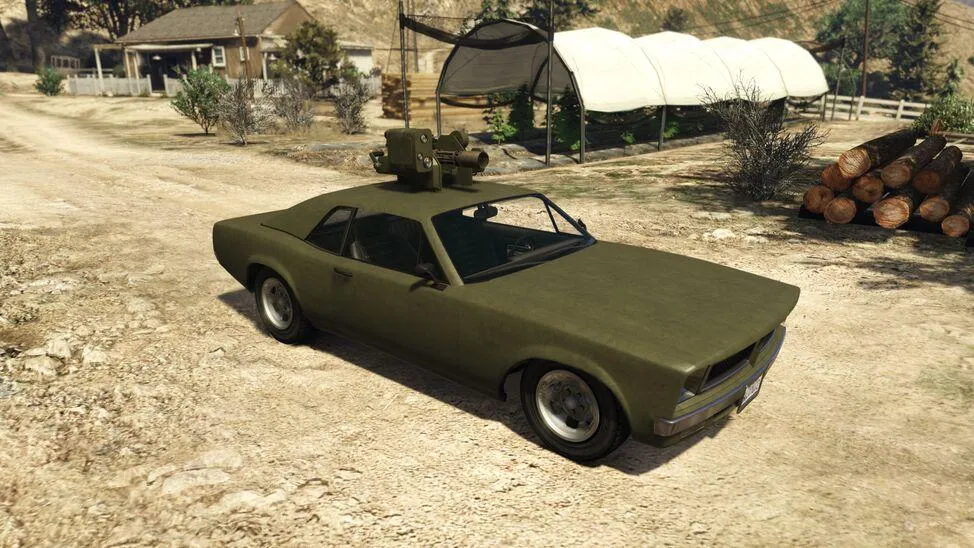 The Declasse Weaponized Tampa is a weaponized Muscle Car featured in GTA Online on PS4, Xbox One, PC, PS5 and Xbox Series X|S, added to the game as part of the 1.40 Gunrunning Pack update on June 13, 2017.
How to get the Weaponized Tampa in GTA Online:
The Weaponized Tampa can be purchased in GTA Online from Warstock Cache & Carry for a price of $2,108,050.
The Weaponized Tampa can be stored in any of your Properties/Garages as a Personal Vehicle. It can be customized at MOC / Avenger Workshop.
Once acquired, you can request the delivery of the Weaponized Tampa from the Mechanic. However, the Weaponized Tampa cannot be used in standard races.
How to unlock the Weaponized Tampa Trade Price?
A trade price of $1,585,000 (Discounted)* can be unlocked for the Weaponized Tampa.
*The discounted SecuroServ Trade Price for the Weaponized Tampa is unlocked after the player has completed the related Mobile Operations Mission.
Declasse Weaponized Tampa in Real Life:
The design of the Declasse Weaponized Tampa is based on a real life Roadkill (Twisted Metal).
Declasse Weaponized Tampa Top Speed:
The actual top speed of the Weaponized Tampa in GTA V is 112.25 mph (180.65 km/h) when it's fully upgraded, as it's been accurately tested in-game by Broughy1322.
Can you sell the Weaponized Tampa in GTA Online?
Yes, you can sell the Weaponized Tampa at MOC / Avenger Workshop for a resale price of $1,264,830 (60% of the original purchase), plus 50% of the value of your upgrades.
Weaponized Tampa: GTA V Vehicle Info
Seats

2

Mass / Weight

1,400

KG

Drive Train

AWD

Gears

4
Weaponized Tampa: GTA V Performance
The below Top Speed & Lap Time have been accurately tested by
Broughy
.
Top Speed - Real

112.25 mph (180.65 km/h)

Lap Time

1:10.538

Bulletproof

No, small window protection available at MOC and Avenger's Workshop

Explosive Resistance

Amount of explosives required to destroy the Weaponized Tampa, with 100% armor, and occupied by a player:

| Explosive Weapon | Amount |
| --- | --- |
| Homing Launcher / Oppressor Missiles / Jet Missiles | 1 |
| RPG / Grenades / Sticky Bomb / MOC Cannon | 1 |
| Explosive Rounds (Heavy Sniper Mk II) | 2 |
| Tank Cannon (Rhino / APC) | 1 |
| Anti-Aircraft Trailer Dual 20mm Flak | 1 |
Weaponized Tampa: GTA V Statistics
Speed

77.80

Acceleration

82.50

Braking

16.67

Handling

68.18

Overall

61.29
Note: The above statistics are coming from the Rockstar official website.
Weaponized Tampa Description:
Back in the 60's a heavy muscle car with a reinforced frame seemed like a great idea because of all the drunk driving you needed to do. Still, perfect though it seemed, a part of you whispered the car was missing something - and trust us, when you see that sturdy foundation supporting a top-mounted minigun the final piece of the jigsaw is going to slot right into place. Throw in some industrial-grade armor and the Tampa will finally have achieved its full potential.
Weaponized Tampa: GTA V Appearances
Release Date

June 13, 2017

DLC / Title Update

1.40 Gunrunning Pack

Game Edition

GTA Online

Platforms

PC

PlayStation 5

Xbox Series X|S

PlayStation 4

Xbox One
Notable Owners:

Vagos

Similar Vehicles
Model ID

tampa3

Notes

*The discounted SecuroServ Trade Price for the Weaponized Tampa is unlocked after the player has completed the related Mobile Operations Mission.

Weaponized Tampa: Vehicle Customization

Total Cost to Fully Upgrade in GTA Online

$495,850

Modification
GTA Online Price
Armor

No Armor

$1,000

Armor Upgrade 20%

$7,500

Armor Upgrade 40%

$12,000

Armor Upgrade 60%

$20,000

Armor Upgrade 80%

$35,000

Armor Upgrade 100%

$50,000

Armor Plating

No Armor Plating

$700

Light Chassis Armor

$1,100

Medium Chassis Armor

$1,350

Heavy Chassis Armor

$1,500

Brakes

Stock Brakes

$1,000

Street Brakes

$20,000

Sport Brakes

$27,000

Race Brakes

$35,000

Engine

EMS Upgrade, Level 1

$9,000

EMS Upgrade, Level 2

$12,500

EMS Upgrade, Level 3

$18,000

EMS Upgrade, Level 4

$33,500

Hood

Stock Hood

$1,600

Light Armored Hood

$3,000

Medium Armored Hood

$5,000

Heavy Armored Hood

$8,000

Horns
See the full list of the available Horns options »
Lights > Headlights

Stock Lights

$600

Xenon Lights

$7,500

Lights > Neon Kits
See the full list of the available Neon Kits options »
Livery

None

$11,400

Basic Camo

$18,240

Zancudo Camo

$19,380

Sprayed Camo

$20,520

3 Color Outline

$21,660

90s Sandbox

$22,800

Modern 5 Color

$23,370

Arid Theater

$23,939

Winter Camo

$24,510

Urban Warrior

$25,080

Nature Reserve

$25,650

Naval Battle

$26,220

Urban Geometric

$26,789

Coyote Geometric

$27,360

Large Geometric

$27,930

Naval Geometric

$28,500

Desert Fractal

$29,070

Urban Fractal

$29,639

Large Digital

$30,210

Medium Digital

$30,780

Small Digital

$31,350

Skulls

?

Knuckleduster

?

Conveyor

?

Stars

?

Tartan

?

Galaxy

?

Trees Camo

?

Candy Cane

?

It's a Wrap

?

Deck the Halls

?

Pink & Green Camo

?

Yellow & Blue Camo

?

Orange Shade Camo

?

Blue & Green Camo

?

Hunting Camo

?

Blue Tartan

?

Santo Capra Coins

?

Sessanta Nove Monogram

?

Sessanta Nove Multi-color

?

Dolla Dolla

?

Plates

Blue on White 1

$200

Blue on White 2

$200

Blue on White 3

$200

Yellow on Blue

$300

Yellow on Black

$600

Proximity Mine

No Proximity Mine

$700

Proximity Mine

$99,000

Respray
See the full list of the available Respray options »
Suspension

Stock Suspension

$200

Lowered Suspension

$1,000

Street Suspension

$2,000

Sport Suspension

$3,400

Competition Suspension

$4,400

Transmission

Stock Transmission

$1,000

Street Transmission

$29,500

Sports Transmission

$32,500

Race Transmission

$40,000

Turbo

None

$5,000

Turbo Tuning

$50,000

Weapons

Front Missile Launchers

$85,000

Rear-Firing Mortar

$92,500

Minigun

$55,000

Dual Remote Minigun

$100,000

Wheels > Wheel Type
See the full list of the available Wheel Types options »
Wheels > Wheel Color
See the full list of the available Wheel Colors options »
Wheels > Tire Design

Stock Tires

$200

Custom Tires

$5,000

Wheels > Tire Enhancements

Standard Tires

$200

Bulletproof Tires

$25,000 (Rank 20)

Low Grip Tires

$500 (at LS Car Meet)

Wheels > Tire Smoke
See the full list of the available Tire Smoke options »
Windows

None

$500

Light Smoke

$1,500

Dark Smoke

$3,500

Limo

$5,000
Weaponized Tampa: GTA V Screenshots
Weaponized Tampa: Custom Paint Jobs
Artworks & Promotional Posters
Weaponized Tampa Video