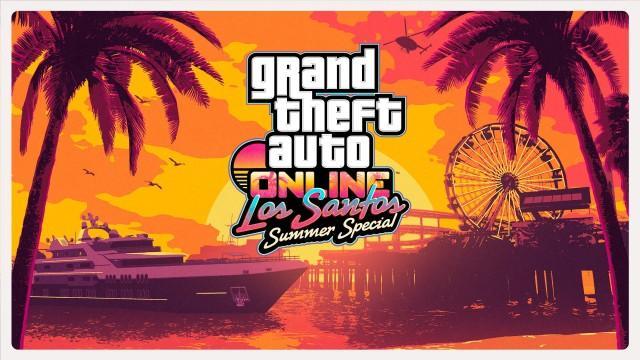 Release Date

August 11, 2020

Game Edition

GTA Online

Platforms

PC

PlayStation 4

Xbox One
The GTA Online Summer 2020 DLC Update arrived in Southern San Andreas on August 11, 2020 adding a mix of new activities and content to the game's massive host of features.
Featuring new tense co-op missions launched from your Galaxy Super Yacht, new Open Wheel Races, plenty of new vehicles to purchase, and much more - the Los Santos Summer Special Update has something for everyone.
The GTA Online Los Santos Summer Special Update for Xbox One, PlayStation 4, and PC, has a size of 1.7 GB. Although the update has been labeled 1.50 on the Rockstar Support page, it's actually numbered 1.51 in-game.
New "A Super Yacht Life" Missions
Owners of the Galaxy Super Yacht are now able to participate in 6 new Co-Op missions for 1-4 players:
Missions involve deep-sea diving and high-speed action on the seas
The missions can be accessed from the Bridge of the Yacht, or by calling the Yacht Captain and selecting 'Request a Job'
The payout of these new missions is between $14,000 - $25,000
Host and complete all six missions to unlock a unique "Yacht Captain" Outfit
15 New Vehicles
15 brand new Vehicles have been added for purchase to Auto websites in GTA Online. Six of these are Benny's upgrades/conversions of existing vehicles:
All the new vehicles in this update have been released immediately at launch. There will be no drip-feed of cars in the upcoming weeks / months.
New Open Wheel Race Tracks & Creator
9 new Open Wheel Race Tracks have been added to GTA Online
You are now able to design your own street circuit with the new Open Wheel Race Creator

The Open Wheel Race Creator has over 60 new props, including racetrack archways, pit-stops, paddocks, and more.
Several improvements have been made to Open Wheel racing gameplay, including:

Added new visible indicators for tire wear and vehicle body damage
Added the ability to change the tire type mid-race at the pit-stop
Players who stay stationary or drive the wrong way in an Open Wheel Races are now ghosted (made non-contact) to other drivers
Players are now always passive/ghosted when at the pit-stop
All tire types now wear down faster, and Hard and Medium tires now have noticeably less grip
A new Start Countdown has been added with starting lights
Spoiler & Front Wing customization options now impact performance (speed and traction) in Races
New Diamond Adversary Series
A range of new Adversary Modes taking place inside The Diamond Casino & Resort has been added to GTA Online.
The Diamond Adversary Series features variants of these eight existing Adversary Modes, for 4-8 players:
Entourage
Every Bullet Counts
Hardest Target
Juggernaut
Kill Quota
Resurrection
Slasher
Trading Places
Other Patch Notes - GTA Online Title Update 1.50 / 1.51
New Business Battles have been added to GTA Online.

Compete over eight packages (instead of two) in some surprising locations for serious rewards:

Aircraft Carrier Assault
Factory Raid

[October 29, 2020] UFO:

There are whispers that a downed unidentified flying object has been hauled off to Fort Zancudo for testing. Most of the information is redacted, but the basics are simple: work together in this new Business Battle to take out the Merryweather agents and then haul whatever extraterrestrial gear you can grab to Omega's shack, ASAP.
Two additional Apartments / Garage Slots have been added, giving players the ability to own up to 8 standard properties.
Two new Arcade Games Cabinets have been added for the Retro Arcade Business:

Axe of Fury ($666,000)
QUB3D ($333,000)

New Stolen Movie Prop Collectibles have been added to GTA Online:

Solomon Richards hires you to find his stolen movie props
Find and return all 10 movie props to Solomon for a reward of $150,000 and the "Space Interloper" alien costume.

New Wheel Types and tire designs have been added at Los Santos Customs Mod Shops:

15 new Off-Road Wheels
30 new Street Wheels

Added a timer to the Casino Lucky Wheel: the game will now tell you how much time you have to wait before you can spin it again.
A 'Return Personal Vehicle to Storage' option has been added to the Interaction Menu, which can be used without registering as MC
New spawn locations have been added when requesting Pegasus Vehicles
Over 200+ new Clothing Items and variations have been added for male and female characters.
The Arcade Game "Street Crimes: Gang Wars Edition" can now be played as Single Player against AI opponents
A new 'Drug Vehicle' Random Encounter has been added to GTA Online
Business Calls from LJT have now been reduced to text messages
Fixed the color of the Supplies and Stock bars in the Master Control Terminal
Snacks can now be purchased from Wendy in the Arcade property.
Plus, the usual weekly special events and bonuses will take place over the coming months.
Additional Improvements & Bug Fixes
As part of the GTA Online Update 1.50 / 1.51, a number of quality-of-life improvements and bug fixes have been made.
Click here to read the Full List of Bug Fixes on the Rockstar Support page.
GTA Online: Los Santos Summer Special - Title Update 1.50 / 1.51 Patch Notes Screenshots
Artworks
GTA Online: Los Santos Summer Special - Title Update 1.50 / 1.51 Patch Notes Video