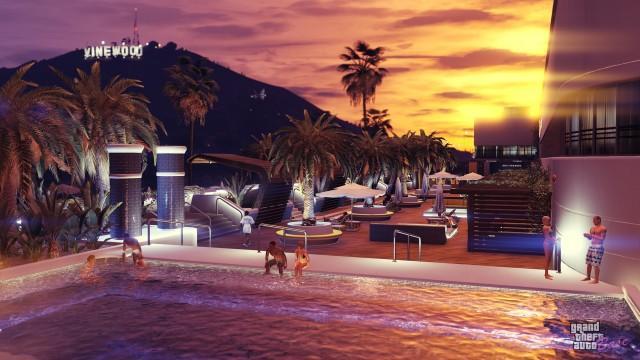 Release Date

July 23, 2019

DLC / Title Update

1.48 Diamond Casino & Resort

Game Edition

GTA Online

Platforms

PC

PlayStation 4

Xbox One
A penthouse at The Diamond is not just a palace. It's your palace. If you want a private spa, you can have it. Home cinema? Consider it done. Your own personal bar, private arcade cabinets, and office space? Just say the word: Diamond.
The Master Casino Penthouse in GTA Online sits beside the Roof Terrace atop The Diamond Casino & Resort, and comes with an infinity pool and stunning views.
Also, it entitles the owner to Casino VIP Membership status, that grants access to special services like complimentary Valet, Champagne, and Limousine Services, as well as Aircraft Concierge and access to High Limit tables and VIP Lounges.
You can customize your residence with several upgradeable floorplans including a private Spa with a round-the-clock personal stylist, a Bar and Party area perfect for hosting parties and retro arcade games, a Media Room to enjoy games of "Don't Cross the Line" and contemporary Vinewood cinema and, of course, a Parking Garage for 10 cars.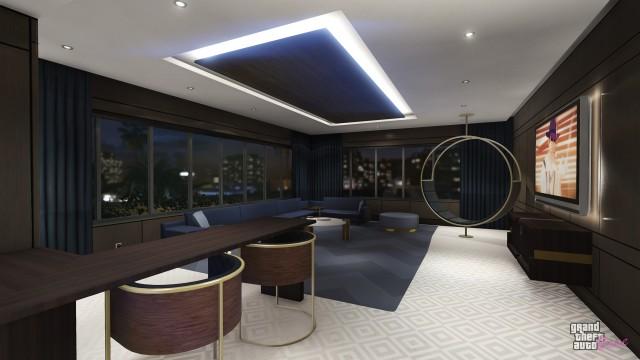 As an owner, you can also select the Penthouse's color palette and patterns, and decorate the place with a range of modern art from the Casino Store – from refined portraiture to pop art and daring modern sculpture – that can all be moved and placed around your property.
With a Master Penthouse, you'll also become a member of The Diamond family, and the family business needs your attention. Help property owner Tao Cheng and The Diamond staff protect their investment from the clutches of a corrupt family of Texan petrochemical magnates in a series of all new co-operative missions.
Casino Penthouse Price Range
How much does the Casino Penthouse cost?
The price of the Penthouse in GTA Online is a minimum of $1,500,000. The maximum price with all the upgrades available for the Master Penthouse is $6,533,500. There are four different pricing templates you can choose from:
Design Your Own: Starting from $1,500,000
This is the greatest blank canvas money can buy.
High Roller: $6,533,500
This is only for the kind of player who only needs to make one bet: all-in.
Crash Pad: $1,500,000
If you're going to crash, crash in style.
Party Penthouse: $3,776,500
If life is a party, this is the venue.
Free Master Penthouse
As part of the Rockstar Games Social Club x Twitch Prime Benefits program, all GTA Online players who linked their Social Club account with Twitch Prime and claimed their Twitch Prime benefits by July 19th are able to purchase the Master Penthouse for free in the Diamond Casino & Resort.
Casino Penthouse Map Location
The Master Penthouse can be purchased at The Diamond Casino & Resort, located on the corner of Vinewood Park Drive and Mirror Park Boulevard.
After purchasing the Penthouse, you receive a bonus of 5,000 Casino Chips.
Casino Penthouse Upgrades & Customization
Master Bedroom
Silk sheets, fresh air bottled on the summit of Mount Chiliad, and round-the-clock access to the greatest roof terrace in Los Santos.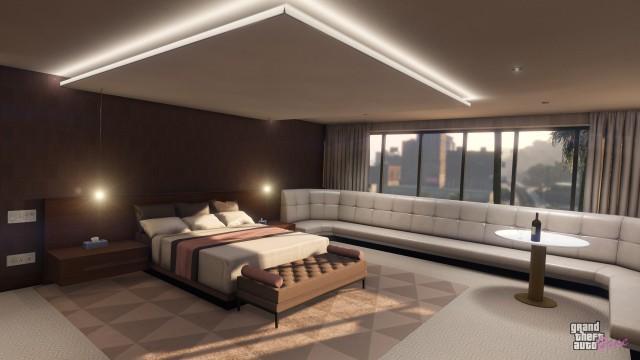 Extra Bedroom
We all have that one friend. With a spare bedroom, they'll have somewhere to crash that isn't your bidet, and with access to their personal wardrobe they won't have to keep borrowing your clothes.
Spa Room
Your private spa comes with a round-the-clock personal stylist and a hot tub infused with extract of jojoba and a dissociative anesthetic.
Bar & Party Area
Why go to a night club, when a night club can come to you? The most exclusive venue in town is the one where you're in charge of the guest list.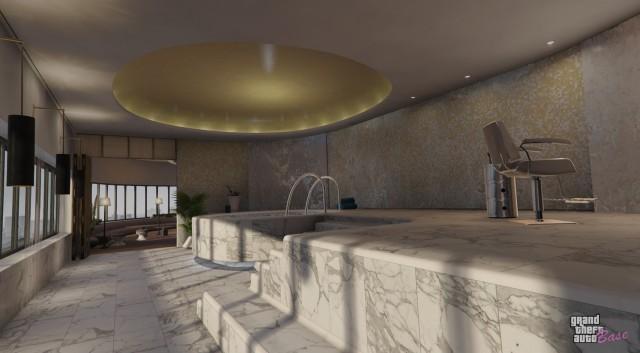 Arcade Games
Time to dig out the high-waisted jeans and the fluorescent headband: Diamond Casinos have the exclusive rights to classic arcade games Invade and Persuade II and Street Crimes: Gang Wars Edition.
Office
Sometimes you need to take care of your affairs, but there's no reason you should have to leave the lap of luxury to do it. All of the offices come with a gun locker and a hidden safe as standard.
Penthouse Garage
Home just doesn't feel like home unless you have 10 hypercars in a well-guarded basement.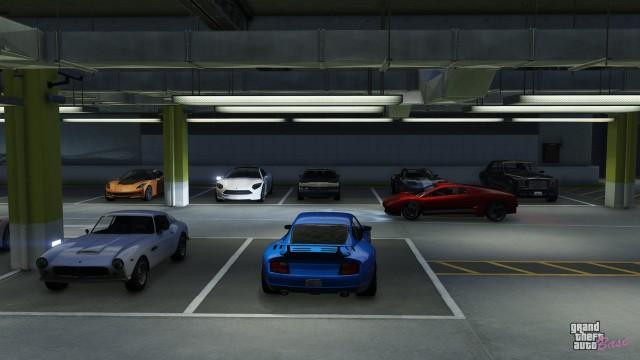 Lounge Area
Your lounge features a bar and dining facilities as standard, and enables you to add five other extensions to your suite.
Media Room
Never again will you have to suppress your gag reflex as you rub shoulders with the general public in the cinema. In addition, you'll be free to enjoy Don't Cross the Line on the big screen with friends.
Artwork
Exclusive fashion. Unique designer artwork. There are some things in life that money can't buy. But don't fret. The Casino Store offers a rotating selection of tastefully curated items that can be purchased with Chips. Make your penthouse an center of modern art.
Casino & Resort VIP Membership Services
At The Diamond, there are Standard members, and there are VIP members. And if you want to be the latter, you're only a penthouse key away from enjoying the kind of status that only systemic elitism can provide.
Owning a Casino Penthouse comes with exclusive VIP Membership Services and Perks:
Covered Parking Garage
This is not merely a parking garage. It's not merely a maximum security, subterranean storage unit. Think of it as an air-conditioned, custom-built, expertly curated museum, where clients can admire each other's collections in peace and comfort.
Valet
Step out of the Casino front door, right into your front seat: valets are available 24/7, and are trained to never to look in the trunk, never to open the glove compartment, and never to ask questions.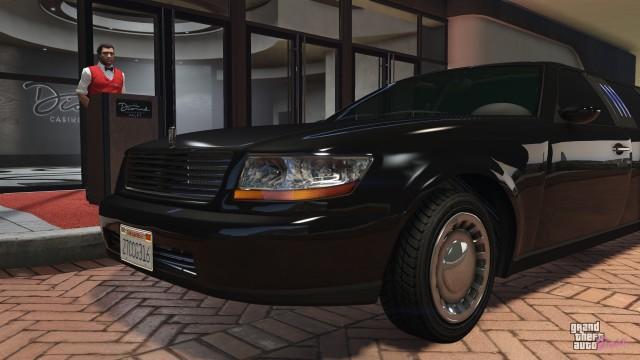 Champagne Service
The Diamond Casino client code of conduct states that if any member is seen ordering a bottle of the finest champagne, spraying half of it over the most exclusive clientele in the state, and downing the rest straight from the bottle, the security teams are obliged to loudly applaud.
Cleaning Service
Housekeepers are recruited from the most respected crime scene cleanup teams in the state. There is no bodily fluid or potentially infectious material they can't remove in the time it takes you to find an alibi.
Aircraft Concierge
Going up? Let the concierge service take care of all your pre-flight checks, so you can step right into the cockpit with the engine ready for takeoff.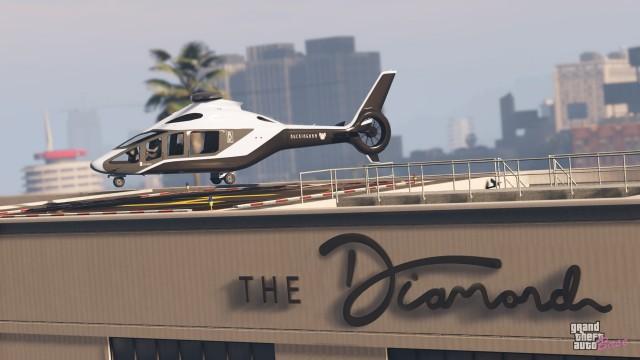 Limousine Service
Leaving The Diamond can be a traumatic experience, but you can cushion the blow. The resident guests can order a Diamond Limousine to take them almost anywhere in the state, free of charge.
Members Party
Why go to the party, when the party can come to you? If you're one of the resident members, you only need to click your fingers and you'll have the drinks, the music, and the dozens of close personal friends.
VIP Lounge
Available exclusively to the resident members, this is the inner sanctum of indulgence, the apex of affluence, the pinnacle of privilege, the high point of high society.
High Limit Tables
Welcome to the grown-up table: resident guests are entitled to play in the high-limit suites.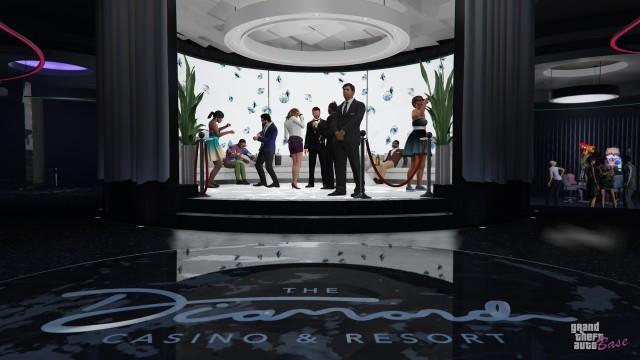 Casino Penthouse (The Diamond) Daily Fees
Below you find the Daily Fees that are charged to the player for owning the Casino Penthouse:
Daily Fees

| Type | Fee Amount | Max Quantity | Max Fee |
| --- | --- | --- | --- |
| Base Fee | $300 | 1 | $300 |
| Additional Rooms | $25 | 8 | $200 |
| Mechanic Fee | $10 | 1 | $10 |
| Total | $335 | | $510 |
Casino Penthouse (The Diamond) Screenshots
Casino Penthouse (The Diamond) Videos