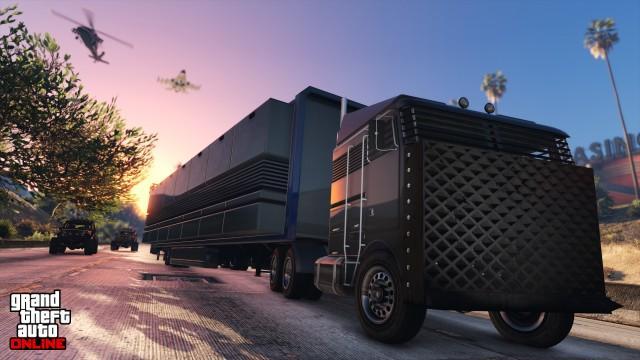 Game Edition

GTA Online

Platforms

PC

PlayStation 5

Xbox Series X|S

PlayStation 4

Xbox One
In addition to regular properties, GTA Online features 4 "Large Vehicle Properties" that also serve as movable Command Centers for various operations, and come with heavy weaponry capabilities.
These drivable command centers can be purchased from Warstock Cache & Carry once the player owns the required property:
All of these can be upgraded with optional add-ons such as Gun Turrets, Vehicle Workshops, and Weapon Workshops, and can also be customized with a choice of interiors.
They also give access to dedicated missions such as Mobile Operations, Client Jobs, and Heists. The Terrorbyte's Nerve Center allows to launch "Steal and Resupply" missions for all the other GTA Online Businesses owned by the player.
These large vehicle properties. along with the Galaxy Super Yacht, can be requested from the Interaction Menu, under "Services". Various service options for each can also be changed from the same menu.
GTA Online Command Centers
Large Vehicle Properties Videos