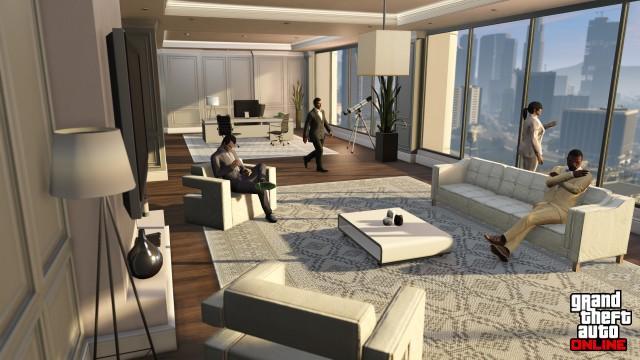 Release Date

June 7, 2016

DLC / Title Update

1.34 Further Adventures in Finance and Felony

Game Edition

GTA Online

Platforms

PC

PlayStation 4

Xbox One
Players can buy an Executive Office through the Dynasty 8 Executive website and can only own one Office at a time. Upon purchasing an Office, players will become the CEO of their Organization, and be given access to exclusive privileges. Offices also give you access to the SecuroServ Special Cargo Network which you'll use to invest in Warehouses and Vehicle Warehouses to start buying and selling Special Cargo.
These masterpieces in executive design have customizable interiors and come with a full-time assistant, helipad, boardroom, Don't Cross the Line arcade game, and optional storage space such as a Money Safe and a Gun Locker, allowing you to personalize your perfect weapon loadout before you go on the job.
An Office does not act as a safehouse unless players purchase the optional Accommodation facilities, which allow to sleep, shower and change clothes as with regular Apartments, and set the Office as their spawn point.
Offices Locations
Executive Offices Screenshots
Office Customization: Interior Decor
Lavish comfort or ruthless minimalism? Old world finesse or sterile psycho-chic? Overpriced wine or raw kale smoothie? Make your office an extension of yourself, however hateful you are.
Note: The style and colors of all the other Office Customizations depend on the Interior Decor chosen.
Office Customization: Personnel
You have people to take out your rivals, extort your neighbors and deliver your arms. So why are you still calling your own helicopter and buying your own smokes? Our world-class Executive Assistants are multilingual, business-savvy, college-educated underlings with no conscience or capacity for independent thought. Just the boost your efficiency needs.
Office Customization: Organization Name
Allows you to pick your Organization Name. You can choose between 13 fonts and 8 colors. Free when purchasing office, but costs $250,000 to change afterwards.
Office Customization: Gun Locker
Tired of bringing your knife to every gunfight? Next time only take what you won't live without, and leave the rest back at base in this secure locker.
Office Customization: Money Safe
Forget the banks - you know what's actually too big to fail? A huge pile of hard cash in a secure safe on the 50th floor. Just close the door, dim the lights and discover that $100 bills are surprisingly comfy and absorbent.
Office Customization: Accomodation & Bed
A burgeoning crime syndicate demands late nights and early mornings. Your secretary requires extensive after-hours personal training free of charge. You need somewhere to black out with a bellyful of tequila and Junk Lite. The answer is simple: add furnished living quarters to your office, kill your commute, and make time for the important things in life.
Office Garage
The
Import/Export Update
(released on December 13, 2016) added the option to further expand your Office by purchasing up to 3
Office Garages
within the same building, with space for 20 Vehicles each - for a total storage capacity of 60 Vehicles.
Executive Offices Daily Fees
Below you find the Daily Fees that are charged to the player for owning an Office:
Daily Fees

| Type | Fee Amount | Max Quantity | Max Fee |
| --- | --- | --- | --- |
| Office Fee | $250 | 1 | $250 |
Executive Offices Video