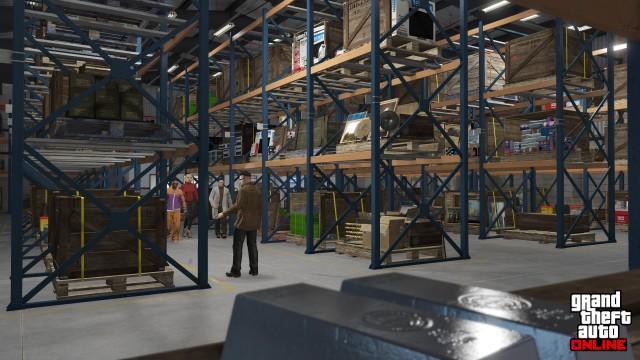 Warehouses are used to store Special Cargo, and at least one is required to initiate Buy and Sell Special Cargo Missions. The player must be the CEO of an Organization and own an Office in order to buy a Warehouse via the SecuroServ Special Cargo Network, which can be accessed at the computer on the desk in the Office.
There are three different types of Warehouses: Small, Medium and Large. Small Warehouses can store a total of 16 crates, medium Warehouses can store 42 crates, and large Warehouses can store 111 crates. The maximum amount of Warehouses a player can purchase is five, regardless of size.
The Warehouse appears with commercial shelving for crates to be stored on. The building can occasionally be raided, and the Organization will have to protect goods from being stolen. Stock can be monitored on the main portal at the Organization's Office.
Small Warehouses
Special Cargo Storage: 16 Crates
Price Range: $250,000 to $400,000
Medium Warehouses
Special Cargo Storage: 42 Crates
Price Range: $880,000 to $1,017,000
Large Warehouses
Special Cargo Storage: 111 Crates
Price Range: $1,900,000 to $3,500,000
Special Cargo Warehouses Daily Fees
Below you find the Daily Fees that are charged to the player for each Crate Warehouse owned (based on the size), for up to 5 Warehouses:
Daily Fees

| Type | Fee Amount | Max Quantity | Max Fee |
| --- | --- | --- | --- |
| Small Warehouse | $25 | 5 | $125 |
| Medium Warehouse | $50 | 5 | $250 |
| Large Warehouse | $75 | 5 | $375 |
Special Cargo Warehouses Video