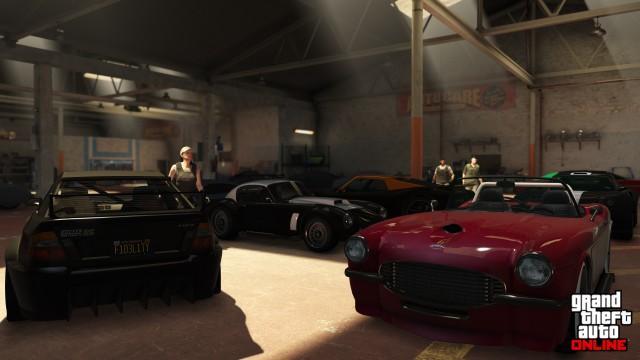 Release Date

December 13, 2016

DLC / Title Update

1.37 Import/Export

Game Edition

GTA Online

Platforms

PC

PlayStation 4

Xbox One
Similarly to the Special Cargo Warehouses, CEO players can buy a Vehicle Warehouse through the new "Vehicle Cargo" option that has been added to SecuroServ on the CEO Office desk computer. Upon purchasing a Vehicle Warehouse, CEO players will have access to Steal and Export Vehicle Missions.
Only one Vehicle Warehouse can be owned by the player. Warehouses can hold up to 40 stolen target vehicles and can be customized with a choice of interior styles. Vehicle Cargo Stock can be monitored on the main portal at the Organization's Office. Unlike Warehouses, the Vehicle Warehouse cannot be raided by NPCs nor by players.
Vehicle Warehouses also come with an Underground Storage Facility that is purpose-built for housing 8 new Special Vehicles.
Vehicle Warehouses Locations
Vehicle Warehouses Screenshots
Vehicle Warehouses: Interior Style
Every business needs an aesthetic: cover your walls with gangland throw-ups, deck your interior with high-profile branding, or keep it functional. The choice is yours.
Artworks & Promotional Posters
Vehicle Warehouses Daily Fees
Below you find the Daily Fees that are charged to the player for owning a Vehicle Warehouse:
Daily Fees

| Type | Fee Amount | Max Quantity | Max Fee |
| --- | --- | --- | --- |
| Mechanic Fee | $10 | 1 | $10 |
Vehicle Warehouses Video