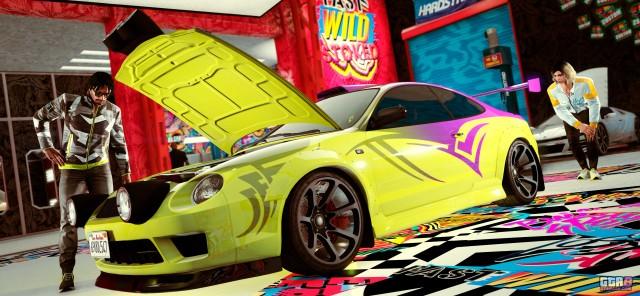 Release Date

July 20, 2021

DLC / Title Update

1.57 Los Santos Tuners

Game Edition

GTA Online

Platforms

PC

PlayStation 4

Xbox One
A new Auto Shop property has been added to GTA Online with the Los Santos Tuners Update, with a selection of 5 different Auto Shop locations to choose from. It allows players to run a legitimate modification business, while planning robberies with Sessanta and KDJ.
In order to purchase an Auto Shop, you have to first visit the LS Car Meet area on the map. After that, you can then buy one from the Maze Bank Foreclosures website. You also have to be registered as a VIP, CEO or MC President.
Auto Shops can be customized with choices of Style, Tint, Crew Emblem & Name, and can be upgraded with Staff, Personal Quarters, and an extra Car Lift. It also comes with a 10-car Garage storage space.
Auto Shops Property Features:
The Auto Shop gives you access to several business opportunities to earn Cash and RP:
Contracts, a series of new multi-part robbery missions available from the Job Board.
The Repair and Mod Business, which allows you to modify customer cars to their specification and deliver them back.
The Exotic Exports vehicle list, accessible on the upper floor after completing a Contract. Find and steal the listed vehicles and deliver them to Sessanta's partner at the docks.
Your Auto Shop also allows you to install all vehicle modifications at a discounted price. In addition, Crew mods and Classic respray colors are Free.
Auto Shops Property Prices & Locations:
Auto Shops Customization & Upgrades List:
A fully customized Auto Shop property in GTA Online with all the best upgrades will cost about $4,250,000.
Auto Shop Customization: Style
Undressed (Free)
Flawless (+ $265,000)
Polished (+ $275,000)
Concret Chic (+ 285,000)
Nostalgia Trip (+ $325,000)
Route 68 (+ $340,000)
Super Chibi (+ $360,000)
Wildstyle (+ $425,000)
Race and Chase (+ $450,000)
Auto Shop Customization: Tint
Yellow (Free)
White (+ $187,500)
Brown (+ $187,500)
Green (+ $187,500)
Orange (+ $187,500)
Red (+ $187,500)
Pink (+ $187,500)
Blue (+ $187,500)
Purple (+ $187,500)
Auto Shop Customization: Emblem
How can anyone condense their personality into one small representational image? Well, does your entire personality consist of custom cars? Then take your pick!
You are able to select an Emblem from a choice of 8 preset Emblems, or by using your custom Crew Emblem:
Crew Emblem (Free)
Hot Rod (+ $25,000)
Americana (+ $62,000)
Euro (+ $68,500)
Modern (+ $75,500)
JPN (+ $85,000)
Wildstyle (+ $94,500)
Joystick (+ $104,500)
In addition, you can etch your Crew Name in your Auto Shop interior for a cost of $50,000.
Auto Shop Customization: Staff
Running an auto shop is busy work, and the time will come when you're too caught up in contracts to get your hands literally dirty. Hire a member of staff or two to carry out deliveries, saving you time for the real business.
Staff Member 1 (+ $385,000)
Staff Member 2 (+ $385,000)
Auto Shop Customization: Extras
Add personal quarters, with a wardrobe, gun locker and a comfortable spot to lie down and relax to the soothing sounds of auto repairs.

A second car lift will allow you repair two cars at once, ready for delivery. Double the work, double the pay.
Personal Quarters (+ $340,000)
Car Lift (+ $650,000)
Auto Shop Customization: Membership
You may think you know cars, but are you a member of the Los Santos Car Meet? If the answer is anything other than a firm "yes", then consider your exper status "pending..."
LS Car Meet Membership (+ $50,000)
Auto Shop Customization: Arcade Game
You can add one Arcade Game to your Auto Shop, via the Interaction Menu while you're inside the Auto Shop itself.
The available Arcade Games are:
Race And Chase: Street Legal
Race And Chase: Get Truckin
Race And Chase: Crotch Rockets
Auto Shops Daily Fees
Below you find the Daily Fees that are charged to the player for owning an Auto Shop:
Daily Fees

| Type | Fee Amount | Max Quantity | Max Fee |
| --- | --- | --- | --- |
| Base Fee | $250 | 1 | $250 |
| Mechanic Fee | $10 | 1 | $10 |
| Total | $260 | 1 | $260 |
Auto Shops Screenshots
Auto Shops Artworks
Auto Shops Video