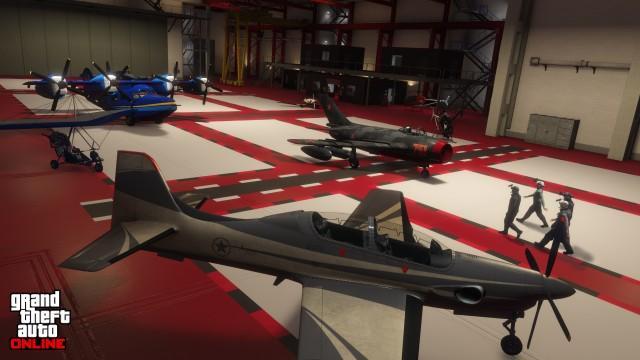 Release Date

August 29, 2017

DLC / Title Update

1.41 Smuggler's Run

Game Edition

GTA Online

Platforms

PC

PlayStation 4

Xbox One
Players can purchase a Hangar on the Maze Bank Foreclosures website and choose from five locations. By purchasing an Hangar at Fort Zancudo, players will be allowed to drive or fly into the base without incurring a wanted level.
Hangars come with space to store and customize up to 20 of a player's Personal Aircraft and a computer that is used to manage the Air-Freight Business, which allows to Source and Sell Cargo.
A free Cuban 800 is supplied with every hangar. Existing owned Pegasus Aircraft can be converted to Personal Aircraft by ordering them from Pegasus and parking them in the Hangar. They can then be also customized (resprayed).
Hangars can be customized with a choice of modifications and add-ons such as a Hangar Style, Lighting, Floor Graphics, Office Furniture, Living Quarters and an Aircraft Workshop.
Hangar Locations
Hangars Screenshots
Hangar Customization: Interior Style
Select the material and decor for your hangar.
Hangar Customization: Lighting
Select a lighting style for your hangar. Our lighting designs are tailored to the decor you've selected for your hangar, so if you change your hangar style, your lighting may look different.
Hangar Customization: Floor Graphics
Select a graphic for your hangar floor.
Hangar Customization: Office Furniture
Upgrade your office furniture.
Hangar Customization: Living Quarters
Add personal quarters to your hangar and select a style for your bedroom furniture.
Hangar Customization: Workshop
Add facility for you to work on your aircraft.
Hangars Daily Fees
Below you find the Daily Fees that are charged to the player for owning a Hangar:
Daily Fees

| Type | Fee Amount | Max Quantity | Max Fee |
| --- | --- | --- | --- |
| Hangar Fee | $250 | 1 | $250 |
| Mechanic Fee | $10 | 1 | $10 |
| Aircraft Stored | $10 | 20 | $200 |
| Total | $270 | | $460 |
Hangars Video