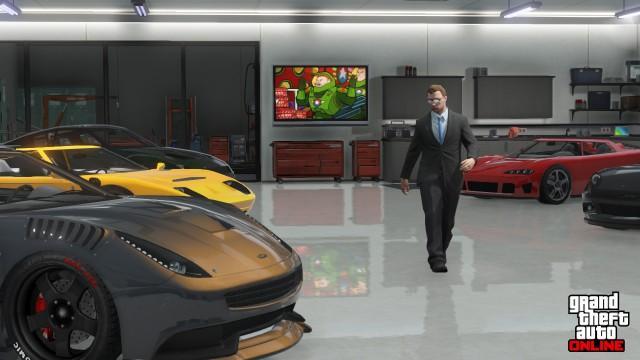 Release Date

October 1, 2013

DLC / Title Update

1.01 Game Launch

Platforms

PC

PlayStation 4

Xbox One

PlayStation 3

Xbox 360
Standalone Garages are the most basic purchasable properties available in GTA Online. Garages provide the ability to store Personal Vehicles, keeping them safe from the battlefield of Free Mode and retaining their customizations.
They also act as a safehouse with limited functionality: unlike Apartments, there is no sleeping, eating, wardrobe or shower, but the more expensive garages will have radio and TV access.
Similarly to Apartments, Garages can be purchased via the Dynasty8realestate.com website, or by directly interacting with the "For Sale" sign outside a property. Garages also come in three tiers: Low-End, Medium and High-End, each featuring a respective interior style.
The current amount of Apartments and Garages you can own in GTA Online is 10 in total.
Low-End Garages
Vehicle Storage: 2 vehicles; 1 bicycles
Price Range: $25,000 to $35,000
Medium Garages
Vehicle Storage: 6 vehicles; 2 bicycles
Price Range: $62,500 to $80,000
High-End Garages
Vehicle Storage: 10 vehicles; 3 bicycles
Price Range: $105,000 to $150,000
Garages Daily Fees
Below you find the Daily Fees that are charged to the player for each Garage owned (regardless of size):
Daily Fees

| Type | Fee Amount | Max Quantity | Max Fee |
| --- | --- | --- | --- |
| Mechanic Fee | $10 | 8 | $80 |
Garages Video