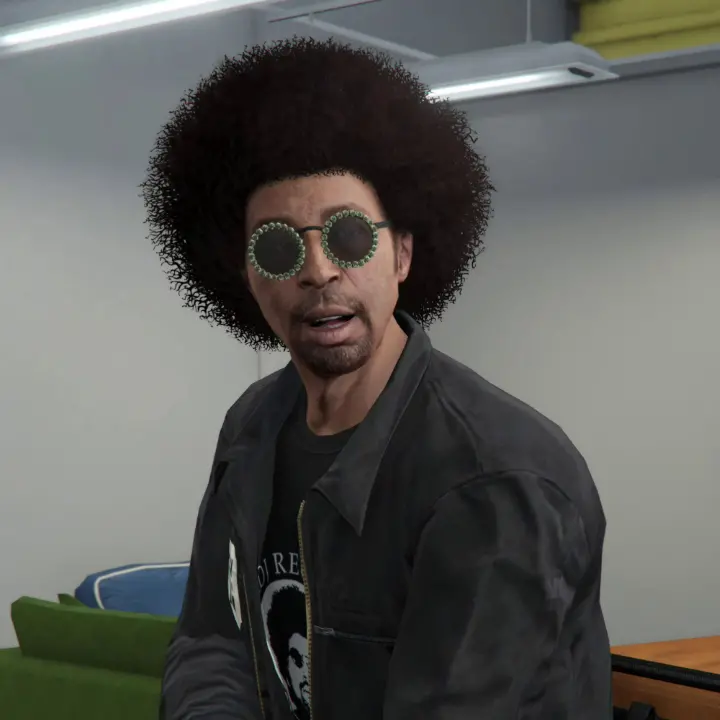 Moodymann (KDJ) is a character that appears in GTA Online, introduced on December 15, 2020 as part of the 1.52 Cayo Perico Heist and 1.57 Los Santos Tuners update.
Kenny Dixon Jr., also referred to as KDJ, is a real-life producer and DJ, and voices his own character in GTA Online.
He first appears during the events of the Cayo Perico Heist, starting his residency at The Music Locker nightclub under The Diamond Casino & Resort in Los Santos.
Moodymann, as he is commonly referred by, becomes a major character in Grand Theft Auto: Online during the Los Santos Tuners update released on July 20, 2021, along with his girlfriend Sessanta. They are the mission givers for the Contracts Missions related to the Auto Shop in GTA Online. He can also be regularly found in the LS Car Meets, showcasing his white Gauntlet Hellfire.
Moodymann (KDJ): Character Info
Moodymann (KDJ): DJ Mix - The Music Locker
Gil Scott-Heron - We Almost Lost Detroit (1977)
Apollo Bronw ft. Planet Asia - Get Back (2017)
Moodymann - I Can't Kick This Feeling When It Hits (1997)
Dopplereffekt - Pornoviewer (1998)
Paperclip People - Oscillator (1991)
Moodymann - No (2014)
Moodymann - I'm Doing Fine (2004)
Moodymann - I'll Provide (2019)
Waajeed - Power In Numbers (2018)
Norm Talley (Delano Smith Remix) - Cosmic Wave (2010)
Kyle Hall & Kero - Zug Island (2013)
Moodymann ft. Pitch Black City - Runaway (2004)
Eddie Fowlkes - Time To Express (1992)
Sheefy McFly - Thinkin Bout You (2019)
AMP Fiddler - Over U (2020)
Moodymann - Sinner (2019)
Moodymann - Got Me Coming Back Rite Now (2018)
Moodymann - 1988 (2020)
AUX 88 - My A.U.X. Mind (2019)
Cybonix - Cybonix Groove (2008)
Moodymann - Rectify (2004)
Theo Parrish - Soul Control (2007)
Marcellus Pittman - Red Dogon Star (2018)
Blake Baxter - When We Used To Play (1987)
Moodymann - JAN (2001)
Norma Jean Bell - I'm The Baddest Bitch (1996)
Moodymann & Roberta Sweed - Runaway (ft. Roberta Sweed) (2004)
GMI/UHM - Formula for Passion (2020)
Moodymann - It's 2 Late 4 U And Me (2013)
Moodymann - Got 2 Make It 2 Heaven (2013)
Moodymann - I Think Of Saturday (2019)
Moodymann - Freeki Muthafucka (2014)
Moodymann - I Got Werk (2014)
Quazar - The Seven Stars (Moodymann Edit) (1990/2020)
Urban Tribe - Program 17 (2010/2020)
Kemetrix - The Hunger (2012)
The Dirtbombs - Sharivari (2011)
Moodymann - Let Me Show You Love (2020)
Moodymann feat. Chico DeBarge - Just Stay A While (2020)
Moodymann (KDJ): DJ Mix - Kenny's Backyard Boogie
Thundercat - Them Changes (2017)
Christion - Pimp This Love (1998)
Atlanta Rhythm Section - So Into You (1976)
Ro James - Ga$ (2016)
Claudja Barry - Love For Sake Of Love (1976)
Barbara NcNair - My World Is Empty Without You (1965)
MFSB - Plenty Good Lovin' (1976)
The Emotions - I Don't Wanna Lose Your Love (1976)
Bell & James - Livin' It Up (Friday Night) (1978)
Jesse Johnson / Moodymann - Where The Devil Plays (2021)
Stavroz - Gold Town (2017)
Larry Heard - Lamentation (2005)
Mobb Deep - Cradle to the Grave (1995)
Nipsey Hussle - Checc Me Out (2013)
Dam-Funk - Hood Pass Intact (2010)
Shade Sheist feat. Nate Dogg & Kurupt - Where I Wanna Be (2000)
LTJ Xperience feat. Anduze - Bad Side (2019)
Aurra - Make Up Your Mind (1982)
Puff Daddy & The Family feat. Black Rob - I Love You Baby (2000)
Teena Marie - Deja Vu (1979)
Rick James - Hollywood (1978)
Joey Purp - Elastic (2018)
Channel Tres - Skate Depot (Moodymann Remix) (2020)
Marvin Belton - The Letter (2009)
Moodymann - Basement Party (2012)
Moodymann - Pray 4 Love (2012)
Moodymann - Technologystolemyvinyle (2007)
AMP Fiddler feat. Moodymann - I Get Moody Sometimes (2017)
Sandy Barber - I Think I'll Do Some Steppin On My Own (Opolopo Rework) (2012)
Moodymann - 9 Nights 2 Nowhere (2012)
NEZ feat. Gangsta Boo & Moodymann - Freaks (2021)
Obie Trice feat. Nate Dogg - The Set Up (2003)
Jose James - Love Conversation (2010)
Moodymann - Misled (1997)
Teena Marie - I Need Your Lovin' (1980)
Moodymann (KDJ): Appearances
Release Date

December 15, 2020

DLC / Title Update

1.52 Cayo Perico Heist, 1.57 Los Santos Tuners

Game Edition

GTA Online

Platforms

PC

PlayStation 4

Xbox One
Moodymann (KDJ) Screenshots
Moodymann (KDJ) Artworks