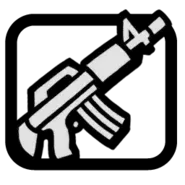 The M4 is a weapon in the Assault Rifles class featured in Grand Theft Auto: San Andreas. The design of the M4 in GTA San Andreas is based on a real life Colt Model 733.
This weapon also appears in Grand Theft Auto V, Grand Theft Auto IV, GTA Vice City and Grand Theft Auto III.
M4 Description:
The M4 is a military-grade weapon, with impressive fire rate, a spacy magazine and amazing accuracy, being able to target gas tanks. It is sure to plow through your foes.
This weapon has three Skill Levels you can progress through: Poor, Gangster and Hitman. Reaching the Hitman level allows you to fire while moving and improves lock-on range, accuracy, rate of fire, and strafe speed when using the weapon.
How to get the M4 in GTA San Andreas:
The M4 can be purchased from Ammu-Nation for a price of $4,500 (or 20% higher in Las Venturas).
It becomes available after completing the mission Yay Ka-Boom-Boom in Story Mode.
The M4 can be found and picked up around the San Andreas map (see the spawn locations in the "Appearances" section below).
The M4 also Spawns at The Four Dragons Casino after collecting all 50 Horseshoes.
M4: GTA SA Statistics
Damage

30.00

Fire Rate

60.00

Accuracy

20.00

Range

90.00
Skill Levels

Yes

Can Crouch

Yes

Can Strafe

Hitman LVL

Can Jump

Yes

Can Sprint

No

Ammo Capacity

50
M4: GTA SA Info
Weapon Class

Assault Rifles

Fire Type

Instant Hit

Available After Mission (Story Mode)

How To Unlock

Spawns at The Four Dragons Casino after collecting all 50 Horseshoes

Story Mode Price

$4,500

Weapon Slot

6

Weapon Tier

Tier 2 (Professional Cheat Set)

Tier 3 (Nutter Cheat Set)

Based on (Real Life)

Colt Model 733
M4: GTA SA Appearances
M4 Spawn Locations in GTA San Andreas

Where to find the M4 in GTA San Andreas:

Found at the Los Santos International Airport, nextto the runway, near the three white and yellow striped "ramps".
Found in Palisades, San Fierro, behind the northernmost house next to the beach.
Found in Area 69, Bone County, behind a staircase leading to a control tower, southwest side.
Found at Pilgrim, Las Venturas, on the roof of the hotel.
Found at The Four Dragons Casino in Las Venturas, in front of the casino (If all 50 Horseshoes have been collected).
Can easily be acquired from soldiers, who drop the weapon on death.
Available for purchase from Ammu-Nation for $4500, after completing "Yay-Ka-Boom-Boom".

Appearances in Story Missions:

Similar Weapons