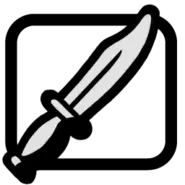 The Knife is a weapon in the Melee Weapons class featured in Grand Theft Auto: San Andreas. The design of the Knife in GTA San Andreas is based on a real life SOG SEAL Pup.
This weapon also appears in Grand Theft Auto 6, Grand Theft Auto V, Red Dead Redemption 2, Grand Theft Auto IV and GTA Vice City.
Knife Description:
The Knife is a great weapon for stealthy face-to-face combat. CJ can stab enemies in the neck from behind to kill them without being noticed and without producing sound. Also increases damage in normal combat.
How to get the Knife in GTA San Andreas:
The Knife can be found and picked up around the San Andreas map (see the spawn locations in the "Appearances" section below).
Knife: GTA SA Statistics
Damage

15.00

Fire Rate

40.00

Range

1.60
Skill Levels

No

Can Crouch

Yes

Can Jump

Yes

Can Sprint

Yes
Knife: GTA SA Info
Weapon Class

Melee Weapons

Fire Type

Melee

Weapon Slot

2

Weapon Tier

Tier 2 (Professional Cheat Set)

Based on (Real Life)

SOG SEAL Pup
Notes

Used in many missions in the game, such as Madd Dogg's Rhymes, Amphibious Assault, The Da Nang Thang, Dam and Blast and Vertical Bird..
Knife: GTA SA Appearances
Knife Spawn Locations in GTA San Andreas

Where to find the Knife in GTA San Andreas:

Found in Market, Los Santos, behind the hospital, in front of a loading bay.
Found in Bone County, in the Verdant Meadows, at the Snake Farm, between two shacks.
In the Unnamed Town of Bone County, found in a Trailer Park, a block north of Ammu-Nation.

Notable Owners:

CatalinaDa Nang BoysGrove Street FamiliesSeville Boulevard FamiliesTemple Drive Families

Appearances in Story Missions: