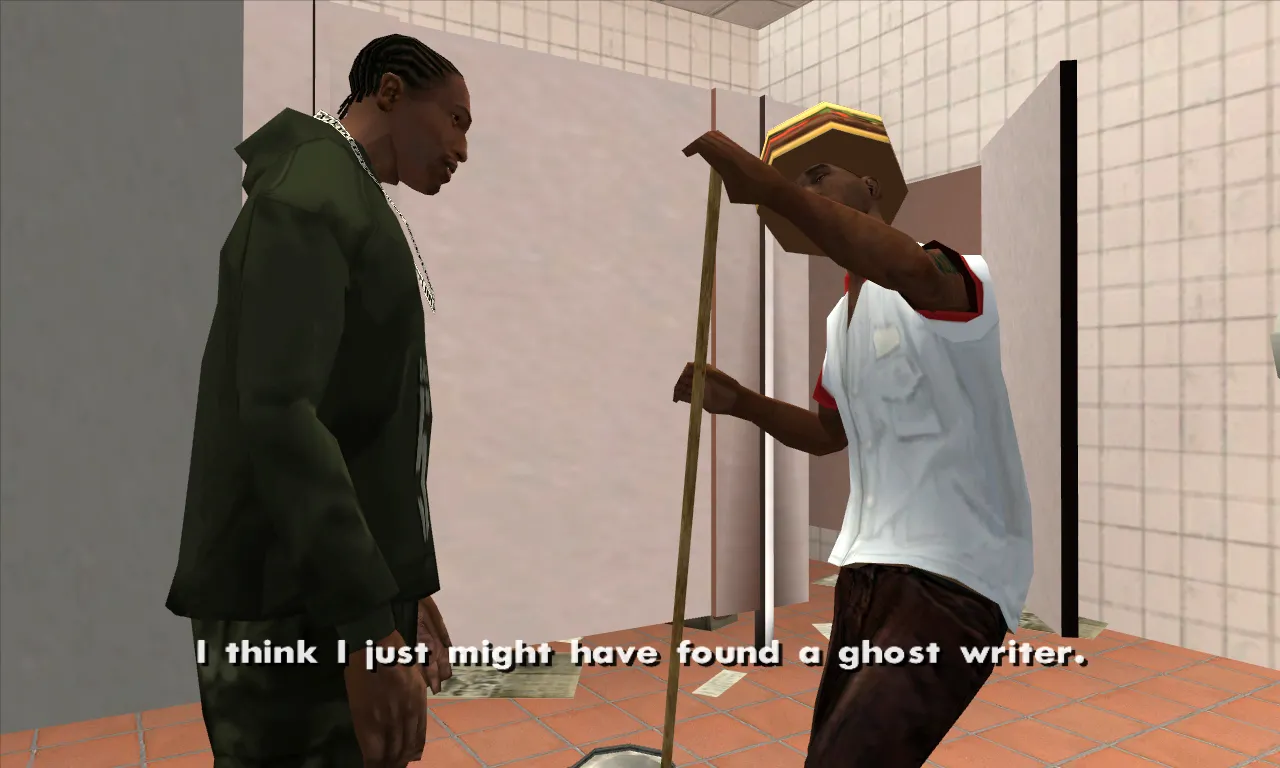 Madd Dogg's Rhymes is a main story mission in GTA San Andreas, given by OG Loc.
It's the 19° GTA San Andreas mission in chronological order, and it takes place in Los Santos.
Carl steals Madd Dogg's rhyme book.
Madd Dogg's Rhymes: Mission Objectives
Go to Madd Dogg's mansion.
The main door is around the back of the mansion.
The rhyme book is in Madd Dogg's recording studio.
Madd Dogg's personal security are patrolling the mansion. Do not use any guns on your way to the rhyme book - you will alert them. Use stealth to steal the rhyme book.
The first guard cannot see you. This means you can sneak up behind him with a melee weapon and perform a stealth kill.
The patrolling guards are shown on the radar by the red blips which point in the direction the security guards are facing.
A guard is patrolling the swimming pool area. Observing his route will allow you to work out how to get past him undetected.
There are lots of shadows in this area to hide in. Hiding in shadows makes it difficult for a guard to spot you.
A guard is coming.
Find a suitable place to hide before he spots you. Look for an area with shadows.
If the white blip on the radar that represents your position turns blue it indicates that you are in the shadows and are hidden from patrolling guards.
If you walk straight past the guard here he will see you. Try crouching and walking past the bar to remain out of his line of sight.
To stay hidden you have to stay crouched and walk past the bar.
Exit the mansion and get the rhyme book back to OG Loc. It's safe to use your weapons now, although it may be less risky if you use stealth to get past any guards on patrol.
The guards are using silenced guns. If you manage to obtain one it will allow you to fire a gun without being heard by nearby guards.
You need to take the rhyme book back to OG Loc. He is at Burger Shot.
Madd Dogg's Rhymes: Mission Info
Mission Number

19

Mission Type

Mandatory Mission

Mission Giver

OG Loc

Location

Burger Shot (Marina); Madd Dogg's Mansion

State / Area

Los Santos
Rewards

Respect +

Unlocked Items

Silenced Pistol (9mm)
Madd Dogg's Rhymes: Video Walkthrough
Original Game Walkthrough (PS2, Xbox, PC):
The Definitive Edition Remaster Walkthrough: