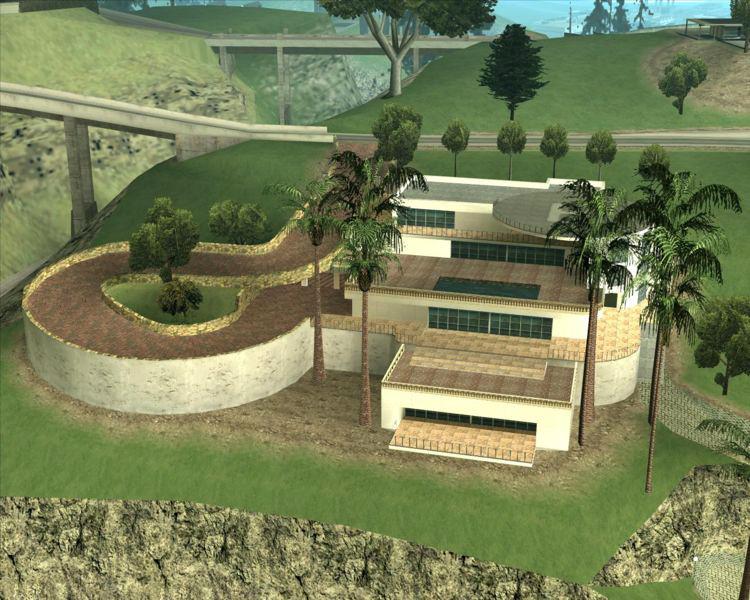 The Madd Dogg's Crib is a Safehouse and Save Point property that can be obtained in GTA San Andreas.
It's a Mansion located in Mulholland, Los Santos, with no space to store any vehicle.
How to get the Madd Dogg's Crib:
The Madd Dogg's Crib in GTA San Andreas becomes available after the mission A Home in the Hills, and is unlocked automatically (for free).
As a safe house, you can save your game progress at this location. However, this is just a basic Save Point, as it doesn't feature a wardrobe unlike the majority of safehouses in GTA San Andreas.
Despite the lack of wardrobe and garage, Madd Dogg's mansion comes with a huge amount of amenities and features, including:
An indoor swimming pool, a private gym (with all exercise equipment), and a basketball court
A Sparrow spawning on the rooftop Helipad
A Kart spawning at the lower entrance
Random vehicles spawning in front of the garage doors
Pickups for Thermal & Night Vision Goggles, Health and Body Armor
A lounge/living room, complete with a large bar and an entertainment system
Game Consoles and Arcade Machines
Five bedrooms
And many more rooms and offices
Property Information
Property Type

SafehouseSave Point

Property Style

Mansion

Location

Mulholland, Los Santos

State / Area

Los Santos

Available After Mission (Story Mode)

Occupant Characters

Madd Dogg
Notes

No Wardrobe; No Garage, but a Sparrow spawns on the rooftop. Also comes with: Swimming Pool, Private Gym, Basketball Court, Thermal & Night Vision Goggles, Arcade Games, Health & Body Armor, a Go-Kart and more amenities
Madd Dogg's Crib: Appearances
Appearances in Story Missions: