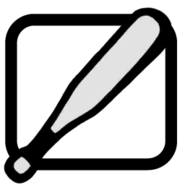 The Baseball Bat is a weapon in the Melee Weapons class featured in Grand Theft Auto: San Andreas.
This weapon also appears in Grand Theft Auto V, Grand Theft Auto IV, GTA Vice City and GTA III.
Baseball Bat Description:
A classic sports item widely used to smack burglars, home-invaders and rivals. Swing as fast as you can and make sure you aim for the head!
How to get the Baseball Bat in GTA San Andreas:
The Baseball Bat can be found and picked up around the San Andreas map (see the spawn locations in the "Appearances" section below).
Baseball Bat: GTA SA Statistics
Damage

20.00

Fire Rate

40.00

Range

1.60
Skill Levels

No

Can Crouch

No

Can Jump

Yes

Can Sprint

No
Baseball Bat: GTA SA Info
Weapon Class

Melee Weapons

Fire Type

Melee

Weapon Slot

2

Weapon Tier

Tier 1 (Thug Cheat Set)
Baseball Bat: GTA SA Appearances
Map Locations (Spawn Areas)

Here is where to find the Baseball Bat in GTA San Andreas:

Found in Garcia, San Fierro, at the north baseball diamond in the park west of Zero RC.
Found in Redsands West, Las Venturas, at the southwest part of the baseball field for Las Venturas Bandits Stadium.
Found in Blackfield, Las Venturas, on the lower level near the south end of the walkway at the north part of Blackfield Stadium.
Pedestrians driving cars may be holding baseball bats, and will attack the player with them if angered.