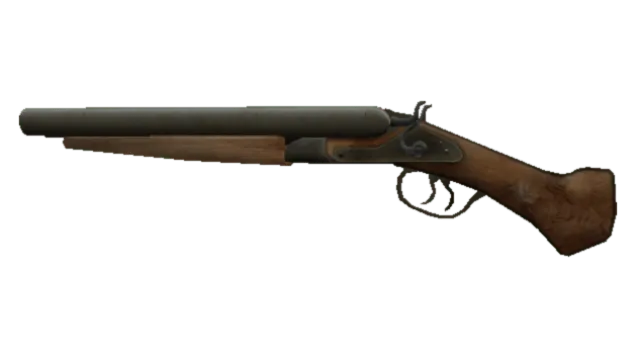 The Sawed-Off Shotgun is a weapon in the Shotguns class featured in GTA IV: The Lost and Damned.
The design of the Sawed-Off Shotgun in GTA IV is based on a real life Lupara.
This weapon also appears in Grand Theft Auto V, Red Dead Redemption 2 and GTA San Andreas.
How to get the Sawed-Off Shotgun in GTA IV:
The Sawed-Off Shotgun can be obtained from friend Terry Thorpe (TLAD), for a price of $600.
It becomes available after completing the mission Gang Wars and Clean and Serene in Story Mode.
The Sawed-Off Shotgun also Spawns at the player's safehouse after completing 10 Gang Wars.
Sawed-Off Shotgun Description:
This shotgun has a short gun barrel producing a wide blast and is deadly at close range. Fires only 2 shells but automatically reloads and can be fired from your bike. .
Sawed-Off Shotgun: GTA IV Statistics
Damage

30.00

Fire Rate

150

rpm

Accuracy

Poor

Range

35

meters

Reload

1

seconds
Sawed-Off Shotgun: GTA IV Info
Weapon Class

Shotguns

Acquisition

Bonus Reward

Terry Thorpe (TLAD)

Available After Mission (Story Mode)

How To Unlock

Spawns at the player's safehouse after completing 10 Gang Wars

Friend Price

$600

Based on (Real Life)

Lupara
Sawed-Off Shotgun: GTA IV Appearances
Game Edition

GTA IV: The Lost and Damned
Sawed-Off Shotgun Spawn Locations in Grand Theft Auto IV

Where to find the Sawed-Off Shotgun in

GTA IV: The Lost and Damned

:

Used By:

Notable Owners:

Billy GreyBrian JeremyClay SimonsJim FitzgeraldJohnny KlebitzTerry ThorpeUptown Riders

Appearances in Story Missions: