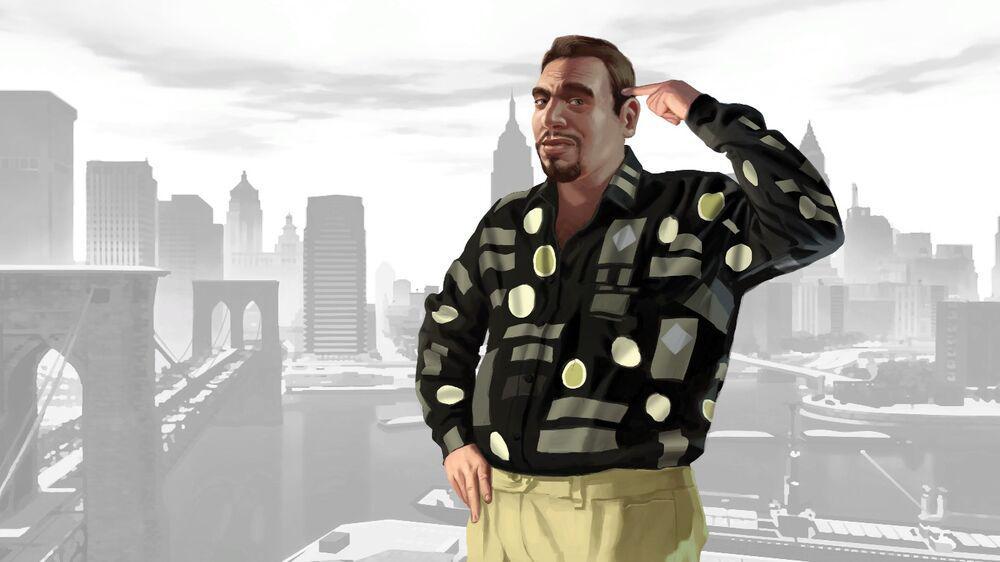 Roman Bellic appears as a Major Character and Friend in Grand Theft Auto IV, as well as a character in GTA IV: The Lost and Damned and The Ballad of Gay Tony.
Roman was born in SRF Yugoslavia and moved to Liberty City in 1998. He is the cousin of Niko Bellic and encourages him to join him in Liberty City by claiming he is living the "American Dream". Roman is actually the owner of a grotty taxi firm, has a roach-infested flat and owes large amounts of debt.
Friendship Activities
Roman Bellic is the first friend of Niko. Roman can be taken to Drink, Eat, play Pool, go to a Strip Club, watch a Show or play Darts.
As a friend, Roman enjoys eating at Burger shot the most, which will increase his likeness level by 7%. He also enjoys going to any bar (+5% likeness), going to any strip club (+8% likeness) and playing darts (+4% likeness).
Friendship Rewards
Getting Roman's likeness level over 75% will enable Niko to get free cab rides from Roman.
Roman Bellic: Character Info
Game Edition

Grand Theft Auto IV GTA IV: The Lost and DamnedGTA IV: The Ballad of Gay Tony
Role in TLAD

Minor Character

Role in TBoGT

Minor Character

Gender

Male

Born In Year

1977 (31 years old in 2008)

Nationality

Serbia

Location

Mohawk Avenue, Hove Beach, Broker (Destroyed)
Joliet Street, South Bohan, Bohan
Albany Avenue, Middle Park East, Algonquin

Occupation

Bellic Enterprises; Gambling

Also Known As

The Janitor; Rom

Performer / Actor

Jason Zumwalt

Family
Roman Bellic: Appearances
Roman Bellic Missions in Grand Theft Auto IV:

Appearances in Story Missions:
Roman Bellic Screenshots
Roman Bellic Artworks
Roman Bellic: Videos