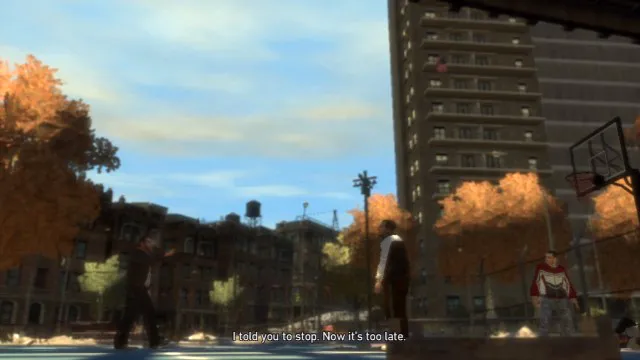 Bleed Out is a main story mission in Grand Theft Auto IV, given by Roman Bellic.
It's the 5° GTA IV mission in chronological order, and it takes place in Broker / Dukes.
Niko rescues Roman from the Albanian Loan Sharks, who have been beating him up for not paying his debts.
After deciding to go out on a date with Michelle, Roman will call Niko asking for help after being beaten up by some thugs. Niko can choose to ignore Roman and continue on with the date (playing the mission First Date) or to hold up Michelle and rescue Roman, choosing to play this mission. If Roman is ignored, he will call Niko again after the First Date, with a different variation, where Niko has to take Roman to the hospital before beating up Bledar, Kalem and Dardan.
This mission will automatically start after Roman's phone call if "First Date" is completed. It is the first mission of this type.
This mission introduces melee fighting, such as punching, kicking and dodging.
The traffic in the car chase is scripted.
If the player chooses to complete "First Date" before helping Roman out, Niko will have an extra task to complete, taking Roman home from the hospital.
Bleed Out: Mission Objectives
Go and rescue

Roman

.
Beat up

Bledar

.
Beat up

Kalem

.
Go and help

Roman

.
Get in

Roman's car

.
Wait for

Roman

.
Chase

Dardan

.

Dardan

has abandoned his car. He's escaping on foot up the staircase.
Take out

Dardan

.
Get in

Roman's car

.
Drive Roman to the

garage

.
Bleed Out: Mission Info
Game Edition

Grand Theft Auto IV
Mission Number

5

Mission Giver

Roman Bellic

Location

Basketball court, off Onondaga Avenue in Firefly Projects, Broker

State / Area

Broker / Dukes

Available After Mission (Story Mode)
Rewards

50$; Ability to Hang Out with Roman

Unlocked Items

Easy Fare
Bleed Out: Video Walkthrough