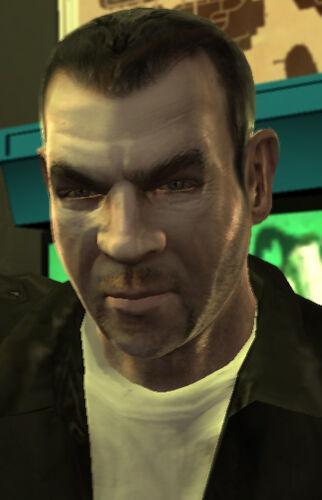 Dardan Petrela appears as a Antagonist and Minor Character in Grand Theft Auto IV.
Dardan was a high-ranking member of the Albanians from Hove Beach.
A loan shark, Dardan lent money to Roman Bellic for his gambling addiction and, despite pressure from Vlad to leave Roman alone, Dardan continues to harass him.
Dardan Petrela: Character Info
Game Edition

Grand Theft Auto IV
Gender

Male

Born In Year

1978 (30 years old in 2008)

Nationality

Albania

Location

Broker, Liberty City

Occupation

Loan Sharking; Extortion

Performer / Actor

Peter Linari

Affiliation

Albanian MobBledar Morina

Vehicles

Willard

Weapons

Knife
Notes

He has the same outfit as Dwayne Forge;
Dardan Petrela: Appearances
Appearances in Story Missions: