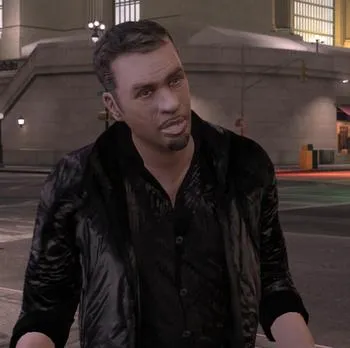 Arnaud appears as a Random Character in GTA IV: The Ballad of Gay Tony.
Arnaud is a middle-aged French man, who arrived in Liberty City for sex and drugs in 2008, He sees the world in a nihilistic way, only wanting to get laid and high.
Random Encounter
First Encounter:
Unlocks after "Practice Swing" and "Chinese Takeout"
Available 24 hours a day.
Found in front of the Viendemorte restaurant in The Triangle.
After talking for a bit, Luis agrees to take Arnaud to a massage spa for an appointment.
Second Encounter:
Unlocks after the first encounter.
Available 24 hours a day.
Found North of Fortside in Bohan.
Luis finds Arnaud beaten up, claiming his wallet had been stolen and that it had sentimental value. Luis chases the pimp that stole it, kills him and returns Arnaud's wallet. Then, Luis takes Arnaud to a safer part of town.
Arnaud: Character Info
Game Edition

GTA IV: The Ballad of Gay Tony
Role in TBoGT

Random Character

Gender

Male

Born In Year

1960 (48 years old in 2008)

Nationality

France

Location

Bohan, Liberty City

Occupation

Epicure

Performer / Actor

Simon Jutras

Affiliation

Luis Fernando Lopez
Arnaud: Appearances