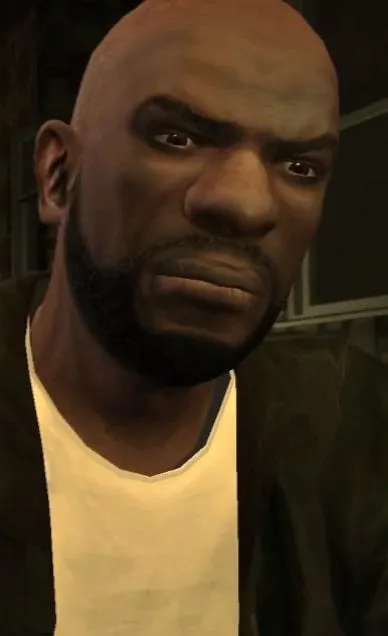 Dwayne Forge appears as a Major Character and Friend in Grand Theft Auto IV.
Dwayne was the mentor of Playboy X during his early years, and after his incarceration, Playboy took leadership of his drug dealing operation.
After Dwayne's release from prison, he starts to rebuild his life with the help of Niko, and they become good friends.
Right after his release from prison, Dwayne seems to be extremely depressed and nihilistic, but after several activities with Niko, he begins to act more positive and seems to enjoy life more.
Friendship Activities
If Dwayne is spared during the Holland Play and Niko responds positively to Dwayne's e-mail, they will become friends. As a friend, Dwayne is available between 12:00PM and 1:00AM. Dwayne can be taken Drinking, Eating, Bowling or to the Strip Club.
Dwayne's preferences are classy places like the Superstars Café, but he loves Cluckin' Bell as well. His strip club preference is Club Liberty in Algonquin. Dwayne dislikes driving too fast and helicopters, but loves the NRG 900.
Friendship Rewards
Reaching a high enough friendship level with Dwayne will enable Niko to request backup from Dwayne, consisting of two thugs that will fire at hostile enemies and will follow Niko.
Dwayne Forge: Character Info
Game Edition

Grand Theft Auto IV
Gender

Male

Born In Year

1973 (35 years old in 2008)

Nationality

United States

Location

Northwood, Liberty City

Occupation

The Triangle Club; Drug Dealing

Performer / Actor

Devin Richards

Affiliation

Jayvon SimsonNiko BellicPlayboy X

Property / Safehouse

Playboy X's Penthouse

Vehicles

NRG 900F
Dwayne Forge: Appearances
Dwayne Forge Missions in Grand Theft Auto IV:

Appearances in Story Missions:
Dwayne Forge Screenshots