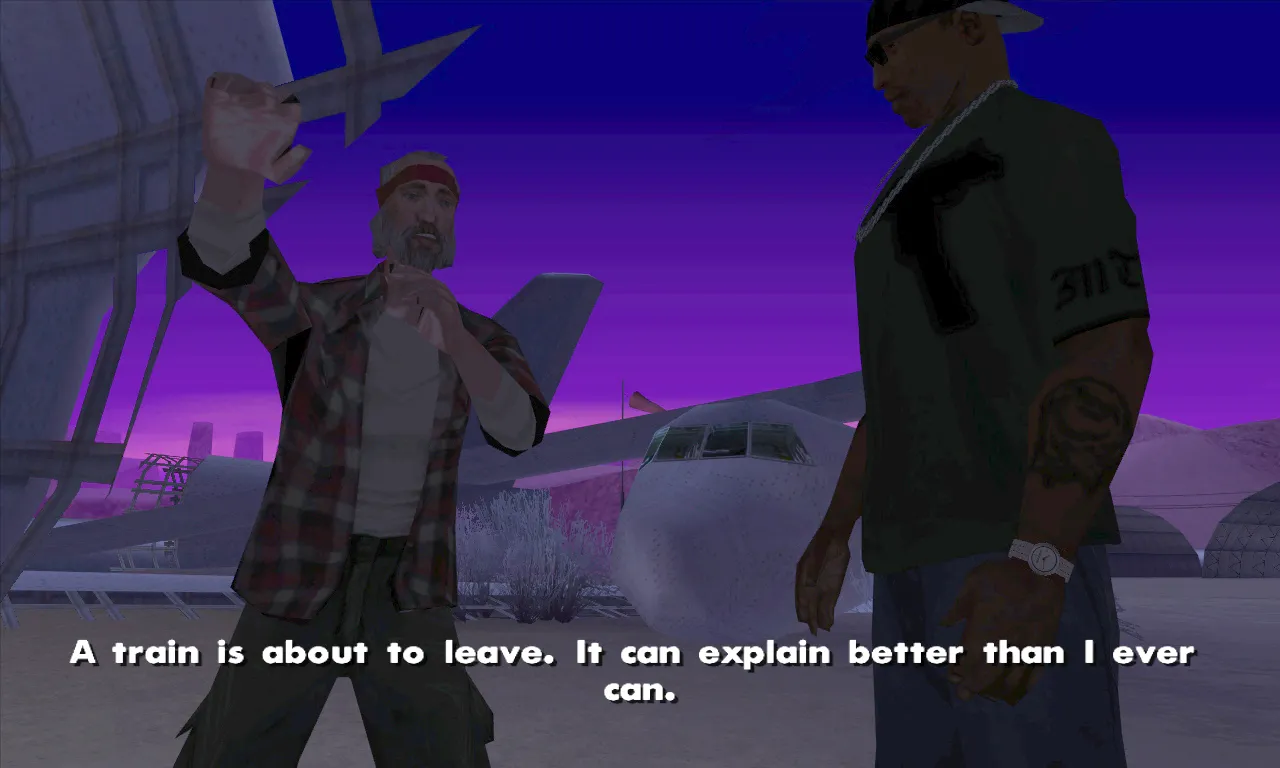 Black Project is an Asset mission in GTA San Andreas, given by The Truth and Verdant Meadows Airfield .
It's the 72° GTA San Andreas mission in chronological order, and it takes place in Bone County.
The Truth wants Carl to raid Area 69 and bring back the Black Project.
Black Project: Mission Objectives
The Truth wants you to gain entry to the Area 69 research lab and bring back to him the Black Project that is being developed inside.
The easiest way into the Area 69 bunker complex is through the blast doors. To open these go to the control tower.
There are searchlights sweeping the area. Observe their routine and plan your route around them.
If you stay in a searchlight for too long or shoot more than 2 out you will be spotted.
The blast doors will go on lockdown, and an alternative route inside will then have to be found.
There are also several military personnel patrolling the area. Use the thermal goggles that The Truth gave you to help you see them in the dark.
You can use stealth to avoid patrols or climb to the top of a control tower and use your sniper rifle to take them out.
You must gain entry to the research labs before sunrise at 05:30 hours.
Open the blast doors by activating the switch in the control tower.
Make your way through Area 69 to the research lab which will give you the access to the black project.
There are several military personnel on patrol throughout the installation.
The control room will allow you to deactivate some of Area 69's exterior defenses, which will aid your escape.Go and find the 'black project'.
The door to the launch bay where the black project being stored is locked. Find a keycard to access it.
Collect the keycard and open the door to the Black Project.
The Black Project is located at the bottom of the launch bay.
You've found what The Truth wanted. You must escape by using the Jet pack to fly out of the launch bay directly above you.
Deliver the jetpack to a drop off point deep in the canyons.
Black Project: Mission Info
Rewards

-

Unlocked Items

Desert Eagle

Notes

This mission can only be started between 20:00 and 06:00; Carl cannot be overweight to complete this mission.
Black Project: Video Walkthrough
Original Game Walkthrough (PS2, Xbox, PC):
The Definitive Edition Remaster Walkthrough: