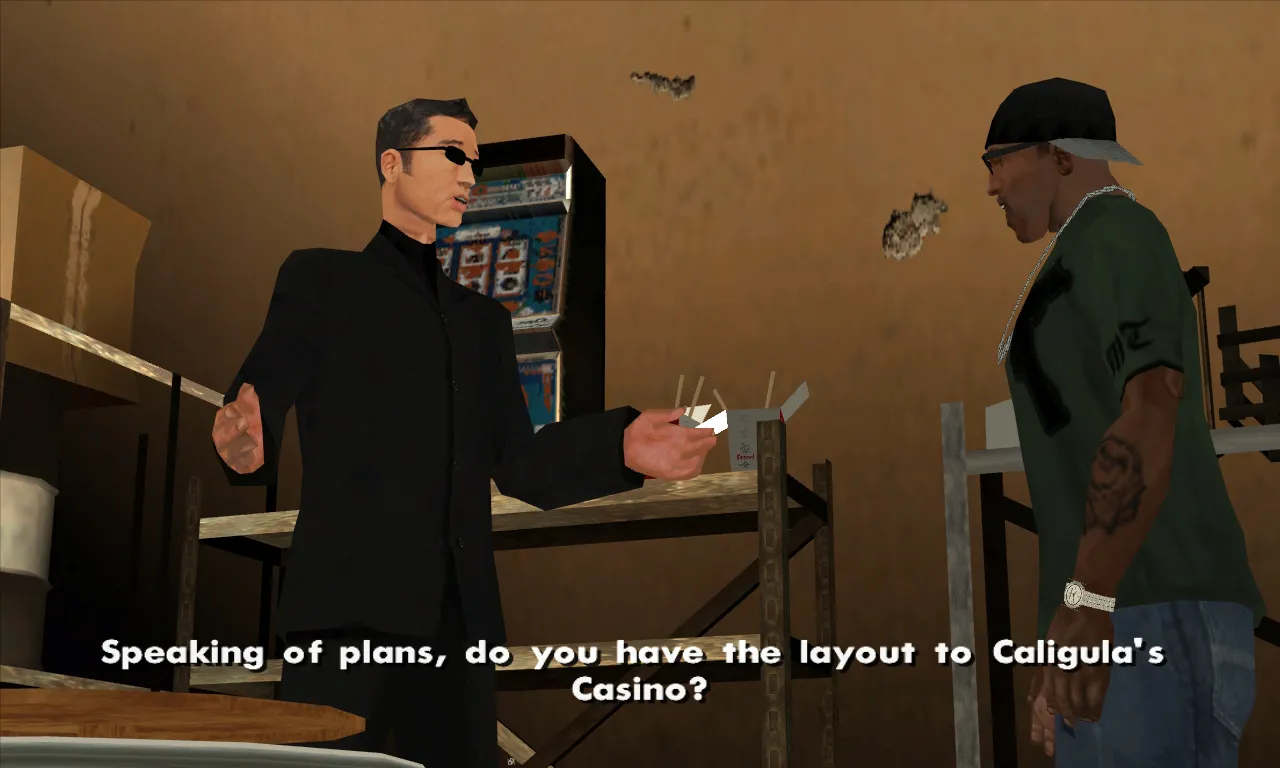 Architectural Espionage is an optional story mission in GTA San Andreas, given by Wu Zi Mu .
It's the 78° GTA San Andreas mission in chronological order, and it takes place in Las Venturas.
This is an optional mission, but it is required for 100% completion of the game.
Carl steals the blueprints for Caligula's Casino.
Architectural Espionage: Mission Objectives
You need a camera to get a copy of those casino blueprints. Grab one from some tourists at the strip.
Good! Get that camera picked up.
You've got a camera, now head to the planning department building.
Security's strict in the planning department. Don't start trouble!
This is a civic building. No visible guns or you'll be ejected from the premises
The stairwell is now accessible. Climb up to get to the location of the blueprints.
The blueprints you need to photograph are in the far room on the top floor.
You can't photo the casino blueprints with the guard around! You need to divert his attention.
There's a document depository downstairs. Head down to see if you can cause a distraction
Those old air con units are decrepit. Destroy them anyway you can.
That's it! That fire alarm ought to occupy those guards.
Okay! They're busy with the evacuation just now. Get upstairs and photograph those blueprints pinned to the wall.
Great! You've photographed the casino blueprints! Get out of the building before you're caught.
The cops can't shut the bottom doors due to the fire! Use your weapons if you need to.
Take the camera film to the back entrance of the Four Dragons casino.
Architectural Espionage: Mission Info
Mission Number

78

Mission Giver

Wu Zi Mu

Mission Type

Side Mission (optional)

Location

The Four Dragons Casino (The Strip); City Planning Department

State / Area

Las Venturas
Architectural Espionage: Video Walkthrough
Original Game Walkthrough (PS2, Xbox, PC):
The Definitive Edition Remaster Walkthrough: