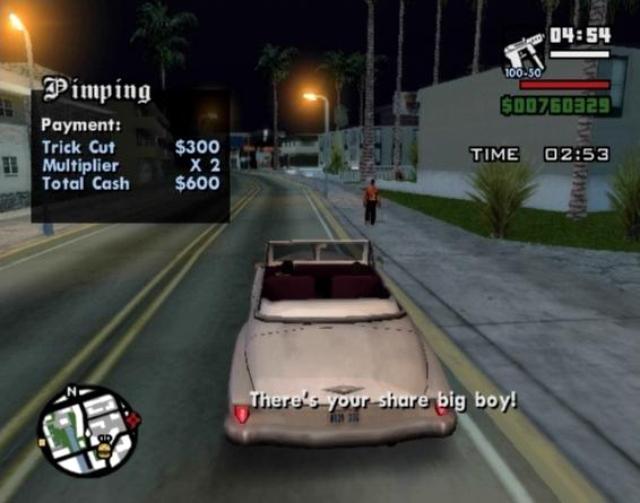 Pimping Missions are a Side Mission in GTA San Andreas.
In Pimping missions, the player will pick up and drive prostitutes to their clients.
This is an optional endeavor, but it is required for 100% completion of the game. It's not time-sensitive, meaning it can be played at any point, even after the main storyline is completed.
Pimping Missions - Mission Details:
The pimping side mission involves driving prostitutes to meet their clients. The mission can be triggered in any of the main cities in San Andreas, but only while driving a Broadway.
There are two prostitutes who need to be driven around, the player having to drop them off to their clients within a time limit.
After a few sessions, the player may be required to kill clients attacking the prostitutes or chase down clients who try to run away without paying the prostitutes.
Pimping Missions: Rewards
On each successful completion of a level, the prostitute rewards CJ with a cut of her fee equal to x × $300, where x is the current level.
Additionally, once ten consecutive sessions have been completed, Carl will receive sex with prostitutes for free.
Pimping Missions: Level Rewards
| Level | Reward |
| --- | --- |
| 1 | $300 |
| 2 | $600 |
| 3 | $900 |
| 4 | $1,200 |
| 5 | $1,500 |
| 6 | $1,800 |
| 7 | $2,100 |
| 8 | $2,400 |
| 9 | $2,700 |
| 10 | $3,000 |
| TOTAL | $16,500 |
Pimping Missions: Mission Info
Notes

Missions can only be done in a Broadway. Missions can only be completed in cities, not the countryside.

Rewards

Varies

Featuring

Broadway
Pimping Missions: Video Walkthrough
Original Game Walkthrough (PS2, Xbox, PC):
The Definitive Edition Remaster Walkthrough: