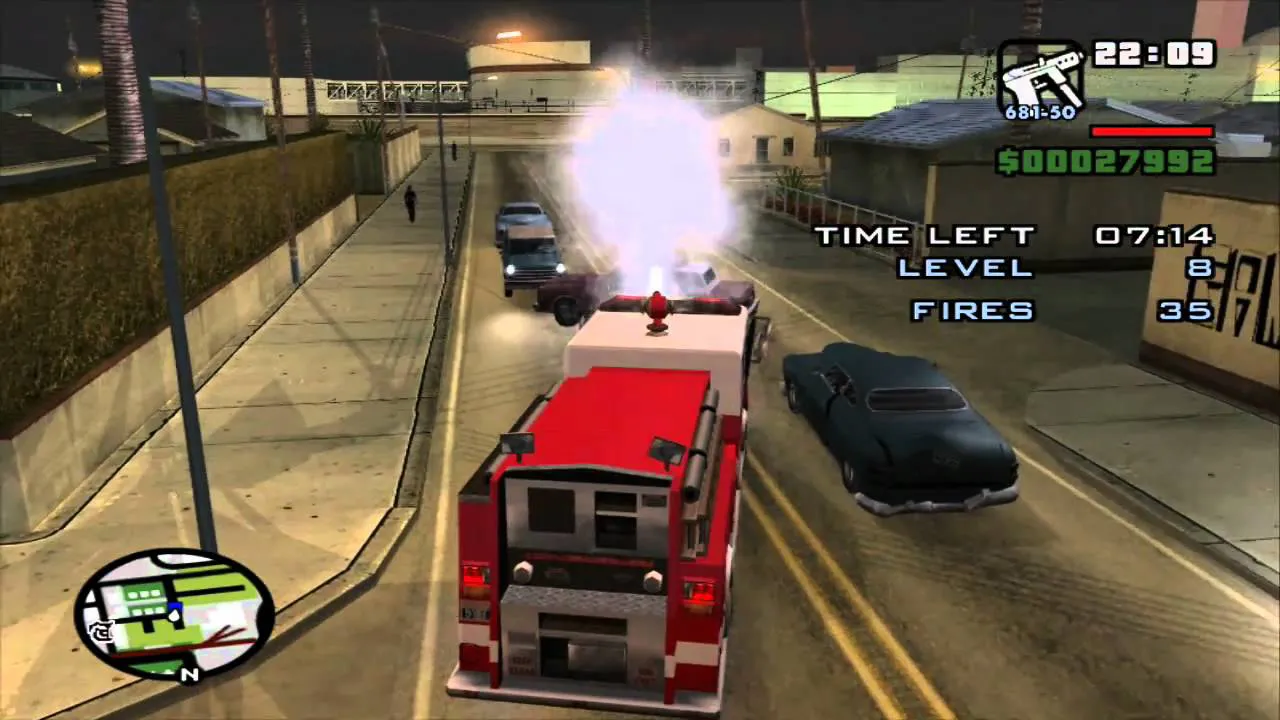 Firefighter is a Vehicle Sub-Mission in GTA San Andreas.
In Firefighter missions, the player must put out various fires throughout the world.
This is an optional endeavor, but it is required for 100% completion of the game. It's not time-sensitive, meaning it can be played at any point, even after the main storyline is completed.
This side activity is also present in GTA Vice City and Grand Theft Auto III.
Firefighter - Mission Details:
The Firefighter side mission can be toggled on or off at any time while driving a Fire Truck.
The player has to complete 12 levels by extinguishing different vehicles. Each level becomes more difficult than the previous, as later levels consist of one or more burning vehicles that may still be occupied.
Once a burning vehicle containing passengers is extinguished, they will frantically run around while still on fire. The player needs to chase after them and save them while being careful not to run them over with the truck.
Running a victim over will result in mission failure.
Firefighter: Reward
After every level completed, the player will be rewarded with an amount of cash equal to the formula (x+1)2 × $50, where x is the level completed
Additionally, after completing all 12 levels, the player will gain permanent Fire Immunity
Firefighter: Level Rewards
| Level | Reward |
| --- | --- |
| 1 | $200 |
| 2 | $450 |
| 3 | $800 |
| 4 | $1,250 |
| 5 | $1,800 |
| 6 | $2,450 |
| 7 | $3,200 |
| 8 | $4,050 |
| 9 | $5,000 |
| 10 | $6,050 |
| 11 | $7,200 |
| 12 | $8,450 + 5,000 bonus |
| TOTAL | $45,900 |
Firefighter: Mission Info
Firefighter: Video Walkthrough
Original Game Walkthrough (PS2, Xbox, PC):
The Definitive Edition Remaster Walkthrough: