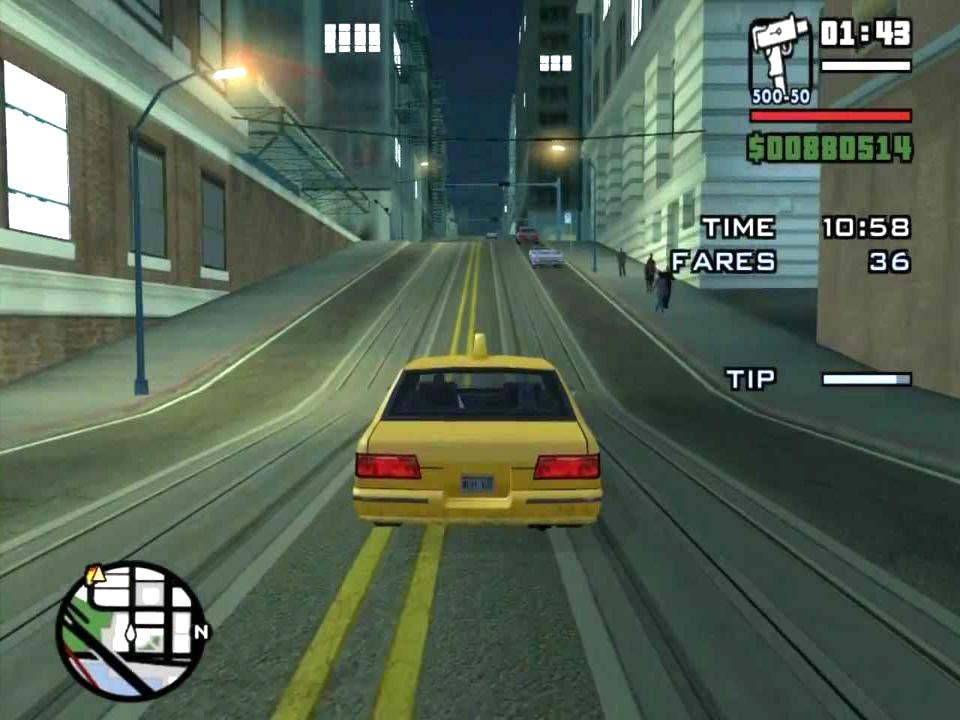 Taxi Driver is a Vehicle Sub-Mission in GTA San Andreas.
In Taxi Driver missions, the player must taxi people throughout the world.
This is an optional endeavor, but it is required for 100% completion of the game. It's not time-sensitive, meaning it can be played at any point, even after the main storyline is completed.
This side activity is also present in Grand Theft Auto V, GTA Vice City and Grand Theft Auto III.
Taxi Driver - Mission Details:
The Taxi Driver side-mission can be toggled on or off at any time while driving a Taxi.
The mission requires the player to drive passengers to specific locations within a time limit, for a cash reward. Once a pedestrian enters the vehicle, the destination is displayed on-screen and is marked by a blip on the radar. If the player runs out of time, exits the vehicle or damages it too badly, the passenger will flee and the mission will end.
Taxi Driver: Reward
Every fare will award the player an amount of cash.
Completing 50 fares will have every Taxi in game gain nitrous and the jump boost ability.
Taxi Driver: Destinations
This is a list of all possible Taxi Fare destinations in Grand Theft Auto: San Andreas, categorised by area.
Los Santos
| Destination | Location |
| --- | --- |
| All Saints General Hospital | Market |
| Ammu-Nation | Market |
| Burger Shot | Marina |
| Burger Shot | Temple |
| County General Hospital | Jefferson |
| Glen Park | Glen Park |
| Glen Park Skate Park | Glen Park |
| Jefferson Motel | Jefferson |
| Jefferson Towers | East Los Santos |
| Jim's Sticky Ring | Market |
| Liquor Mart | Ganton |
| Los Santos Church | Jefferson |
| Los Santos Forum | East Beach |
| Los Santos International Airport | Los Santos International |
| Los Santos Lighthouse | Santa Maria Beach |
| Los Santos Observatory | Verdant Bluffs |
| Los Santos Police Headquarters | Pershing Square |
| Mama's Cinema | East Los Santos |
| Market Station | Market Station |
| Pershing Square | Pershing Square |
| Pizza Stack | Idlewood |
| Pik N' Go Market | Jefferson |
| ProLaps | Rodeo |
| Reece's Hair & Facial Studio | Idlewood |
| Richman Country Club | Vinewood |
| Ten Green Bottles | Ganton |
| The Brown Starfish Bar and Grill | Santa Maria Beach |
| The Legal Cinema | Commerce |
| Tattoos | Idlewood |
| Unity Station | El Corona |
| Unnamed industrial park | Ocean Docks |
| 24 Hour Motel | Idlewood |
San Fierro
| Destination | Location |
| --- | --- |
| Avispa Country Club | Avispa Country Club |
| Biffin Bridge Hotel | Queens |
| Burger Shot | Juniper Hill |
| Central Hashbury | Hashbury |
| Chinatown Gates | Chinatown |
| Corvin Stadium | Foster Valley |
| Cranberry Station | Doherty |
| Doherty Mall | Doherty |
| Downtown Square | Downtown San Fierro |
| Easter Basin | Easter Basin |
| Easter Bay International Airport | Easter Bay International Airport |
| Gant Bridge | Battery Point |
| Skyscraper in King's | King's |
| Missionary Hill | Missionary Hill |
| Ocean Flats Cathedral | Ocean Flats |
| Ocean Flats Library | Ocean Flats |
| Paradiso Diner Restaurant | Paradiso |
| San Fierro City Hall | San Fierro City Hall |
| San Fierro Medical Center | Santa Flora |
| San Fierro Police Headquarters | Downtown San Fierro |
| San Fierro Tower | Downtown San Fierro |
| The Well Stacked Pizza Co. | Downtown San Fierro |
| Tuff Nut Donuts | Palisades |
| Vank Hoff Hotel | Queens |
| Windy Windy Windy Windy Street | Calton Heights |
Las Venturas
| Destination | Location |
| --- | --- |
| 24/7 | Starfish Casino |
| Ammu-Nation | Old Venturas Strip |
| Art & Soul | Roca Escalante |
| Blackfield Stadium | Blackfield |
| Burger Shot | Old Venturas Strip |
| Creek Chinese Mall | Creek |
| Creek Shopping Mall | Creek |
| Estate Agents | Roca Escalante |
| Freemont St. Casino | Old Venturas Strip |
| Greenglass College | Blackfield |
| K.A.C.C. Military Aviation Fuel Depot | Spinybed |
| Las Venturas Airport | Las Venturas Airport |
| Las Venturas Church | The Strip |
| Las Venturas Court House | Roca Escalante |
| Las Venturas Fire Station | Redsands West |
| Las Venturas Hospital | Las Venturas Airport |
| Linden Station | Linden Side |
| Las Venturas Police Headquarters | Roca Escalante |
| Nude Strippers Daily | The Strip |
| Old Venturas Strip Strip Club | Old Venturas Strip |
| Starfish Casino | The Strip |
| Royal Casino | The Strip |
| Sex Shop XXX | Roca Escalante |
| Souvenirs | Redsands East |
| Steakhouse | Redsands East |
| The Camel's Toe | The Strip |
| The Clown's Pocket | The Strip |
| The Emerald Isle | The Strip |
| The Pink Swan | The Strip |
| The Visage | The Visage |
| Tiki Hotel | Pilgrim |
| V-Rock Hotel | Roca Escalante |
| Yellow Bell Station | Prickle Pine |
Bone County
| Destination | Location |
| --- | --- |
| Lil' Probe'Inn | Lil' Probe 'Inn |
| Ammu-Nation | East Bone County |
| The Big Spread Ranch | East Bone County |
Tierra Robada
| Destination | Location |
| --- | --- |
| Sherman Dam | Tierra Robada |
| The Smokin' Beef Grill | Las Barrancas |
Taxi Driver: Mission Info
Taxi Driver: Video Walkthrough
Original Game Walkthrough (PS2, Xbox, PC):
The Definitive Edition Remaster Walkthrough: