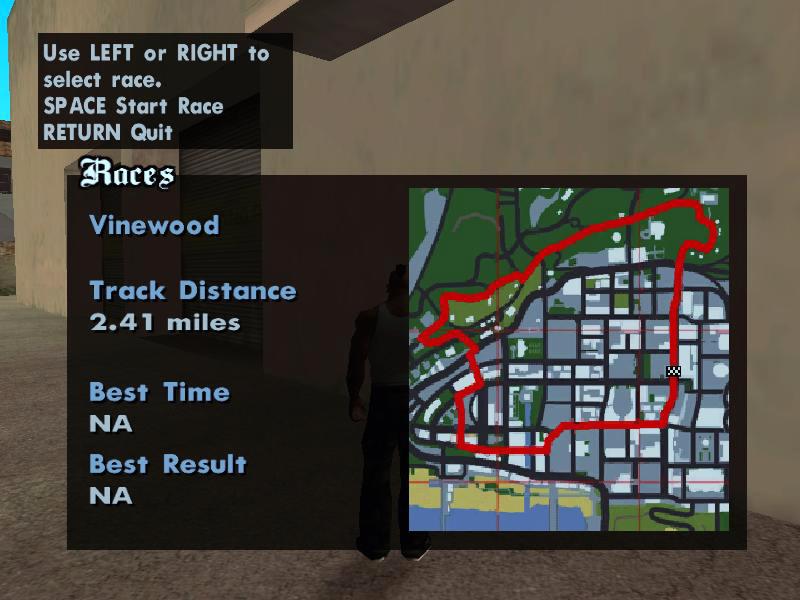 Race Tournaments are a Side Mission in GTA San Andreas. It becomes available after completing Driving School, Wu Zi Mu and Verdant Meadows.
Carl competes in various races through San Andreas
This is an optional endeavor, but it is required for 100% completion of the game. It's not time-sensitive, meaning it can be played at any point, even after the main storyline is completed.
Race Tournaments - Mission Details:
There are four sets of Race Tournaments in GTA: San Andreas, three involving road vehicles and one involving aircrafts.
In order to successfully complete a race, Carl must finish in first place. Air races are an exception and are considered won by completing the set course - the player does not have competitors in them.
Race Tournaments: Locations
Los Santos Races can be found in Little Mexico
San Fierro Races can be found behind the Wang Cars in Doherty
Las Venturas Races can be found at the LVA Freight Depot
Air Races can be accessed at the Las Venturas Airport
Races are marked with a flag icon on the map for the player.
Race Tournaments: Rewards
Every successful completion of a race (first-place finish) awards the player $10,000. Completing all race tournaments in the game in first place awards an extra $1,000,000 and is also required for 100% completion.
Race Tournaments: Races
Los Santos Races
| Race | Vehicle | Length |
| --- | --- | --- |
| Lowrider Race | Blade | 1.46mi / 2.34km |
| Little Loop | NRG-500 | 0.82mi / 1.31km |
| Backroad Wanderer | FCR-900 | 2.05mi / 3.29km |
| City Circuit | FCR-900 | 2.26mi / 3.63km |
| Vinewood | Sunrise | 2.41mi / 3.87km |
| Freeway | Super GT | 2.62mi / 4.21km |
| Into The Country | Bullet | 5.22mi / 8.4km |
| Badlands A | Sabre | 2.99mi / 4.81km |
| Badlands B | ZR-350 | 2.99mi / 4.81km |
San Fierro Races
| Race | Vehicle | Length |
| --- | --- | --- |
| Dirtbike Danger | Sanchez | 1.99mi / 3.2km |
| Bandito County | Bandito | 2.02mi / 3.25km |
| Go-Go Karting | Kart | 1.18mi / 1.89km |
| San Fierro Fastlane | Alpha | 1.64mi / 2.63km |
| San Fierro Hills | Phoenix | 5.2mi / 8.36km |
| Country Endurance | Bullet | 6.68mi / 10.75km |
Las Venturas Races
| Race | Vehicle | Length |
| --- | --- | --- |
| SF to LV | Banshee | 4.85mi / 7.8km |
| Dam Rider | NRG-500 | 2.67mi / 4.29km |
| Desert Tricks | BF-400 | 2.91mi / 4.68km |
| LV Ringroad | Turismo | 3.7mi / 5.95km |
Air Races
| Race | Vehicle | Length |
| --- | --- | --- |
| World War Ace | Rustler | 4.24mi / 6.82km |
| Barnstorming | Stunt Plane | 7.64mi / 12.2km |
| Military Service | Hydra | 10.8mi / 17.3km |
| Chopper Checkpoint | Maverick | 3.05mi / 4.9km |
| Whirly Bird Waypoint | News Chopper | 2.73mi / 4.39km |
| Heli Hell | Hunter | 3.08mi / 4.95km |
Race Tournaments: Mission Info
Mission Type

Optional (Side Mission)

Location

Little Mexico; Doherty; LVA Freight Depot

Available After Mission (Story Mode)

Required for 100%

Yes
Race Tournaments: Video Walkthrough
Original Game Walkthrough (PS2, Xbox, PC):
The Definitive Edition Remaster Walkthrough: