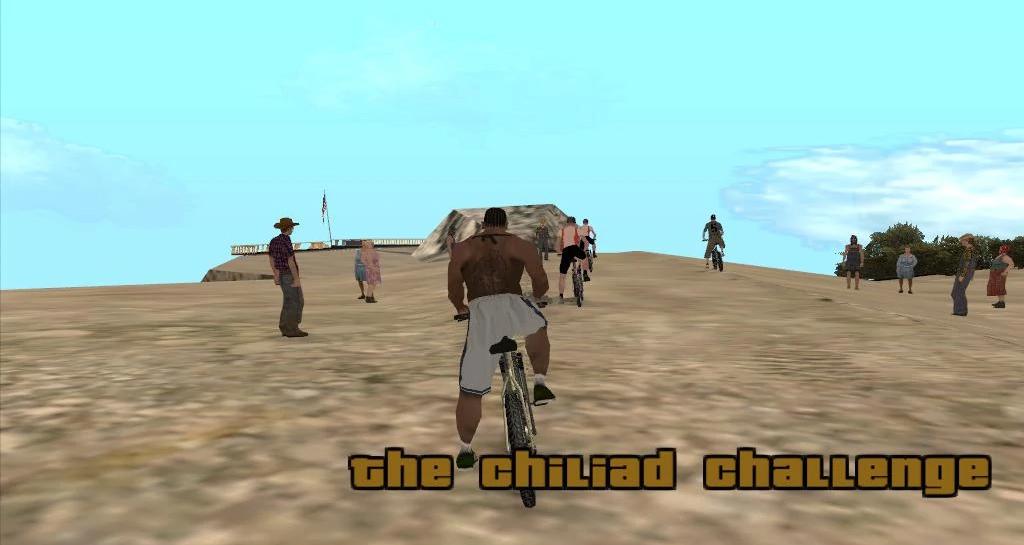 The Chiliad Challenge is a Side Mission in GTA San Andreas.
The Chiliad Challenge consists of three races down Mount Chilliad.
This is an optional endeavor, but it is required for 100% completion of the game. It's not time-sensitive, meaning it can be played at any point, even after the main storyline is completed.
The Chiliad Challenge - Mission Details:
The Chiliad Challenge is a side mission that requires the player to race down Mount Chiliad using a Mountain Bike.
The mission can be accessed by entering a parked Mountain Bike on top of Mount Chiliad any day between 7:00 and 18:00, but only with a cycling skill above 40%. The goal is to be the first to reach the base of the mountain.
There are three different courses that need to be completed for100% Completion, but they all share the same finish zone and the final sector. Additionally, shooting a competitor will fail the mission.
The Chiliad Challenge: Courses
Scotch Bonnet Yellow Route: Shortest way down to Angel Pine, but is also the steepest - corners are very tight and tricky due to the reduced grip of the dirt track. The reward for completing the course is $500.
Birdseye Winder: A longer route, with a few leveled straight sectors where CJ can sprint and take the lead easily. The reward is $1000.
Cobra Run: Follows a tricky, narrow trail, with several difficult jumps. The reward for this course is $2000.
The Chiliad Challenge: Mission Info
Rewards

$3,500 for all three races

Featuring

Mountain Bike

Notes

At least 40% cycling skill is needed to complete the mission.
The Chiliad Challenge: Video Walkthrough
Original Game Walkthrough (PS2, Xbox, PC):
The Definitive Edition Remaster Walkthrough: