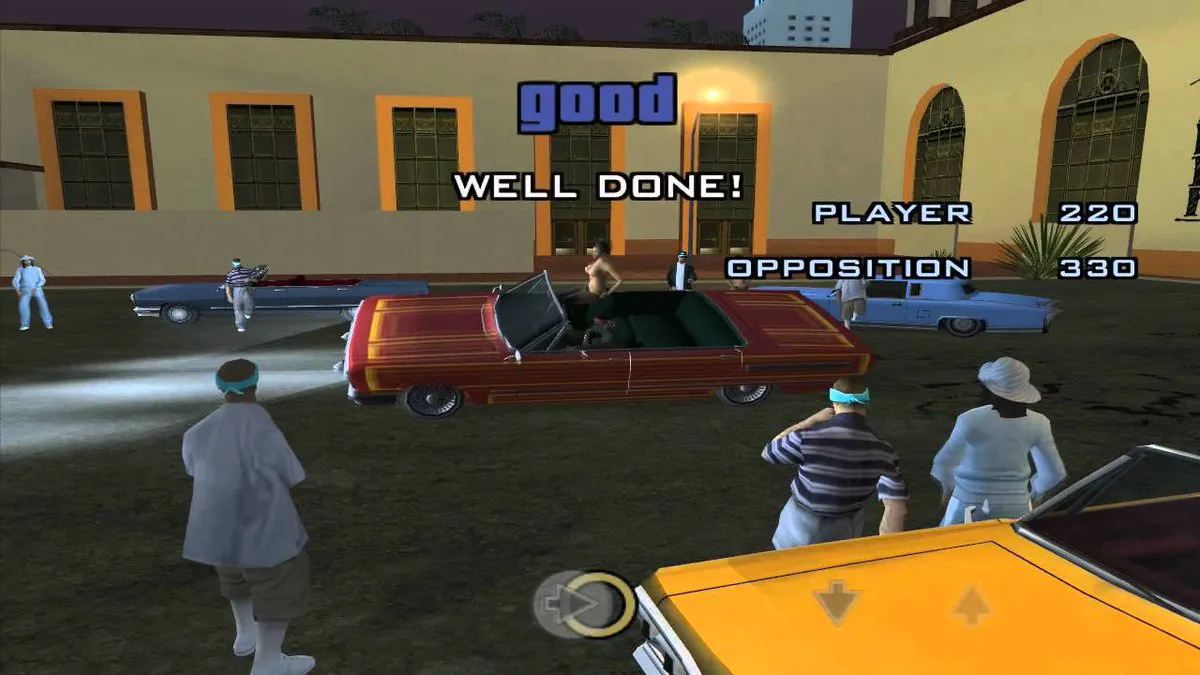 Lowrider Challenge is a Side Mission in GTA San Andreas. It becomes available after completing Cesar Vialpando.
Carl competes in a Lowrider challenge.
This is an optional endeavor, not required for 100% completion of the game.
Lowrider Challenge - Mission Details:
The Lowrider Challenge is a side mission that involves the player activating a Lowrider's hydraulic systems in prompted directions to make the car hop.
The mission can be activated by approaching the mechanic outside Unity Station in Los Santos with a lowrider (Blade, Broadway, Remington, Savanna, Slamvan, Tahoma, Tornado or Voodoo) after the mission Cesar Vialpando. The player can bet up to $1,000 against their opponent, who is a member of the Varrios Los Aztecas.
If the player is using an open-top convertible, their performance is indicated by its female passenger's position - the higher the score, the more excited the passenger becomes, who sits and stands higher accordingly.
The mission is completed if the player's score is higher than their opponent's, and they can win or lose the amount they used in the bet.
Lowrider Challenge: Mission Info
Mission Type

Side Mission (optional)

Location

Unity Station

State / Area

Los Santos

Available After Mission (Story Mode)

Required for 100%

No
Lowrider Challenge: Video Walkthrough
Original Game Walkthrough (PS2, Xbox, PC):
The Definitive Edition Remaster Walkthrough:
Coming soon.