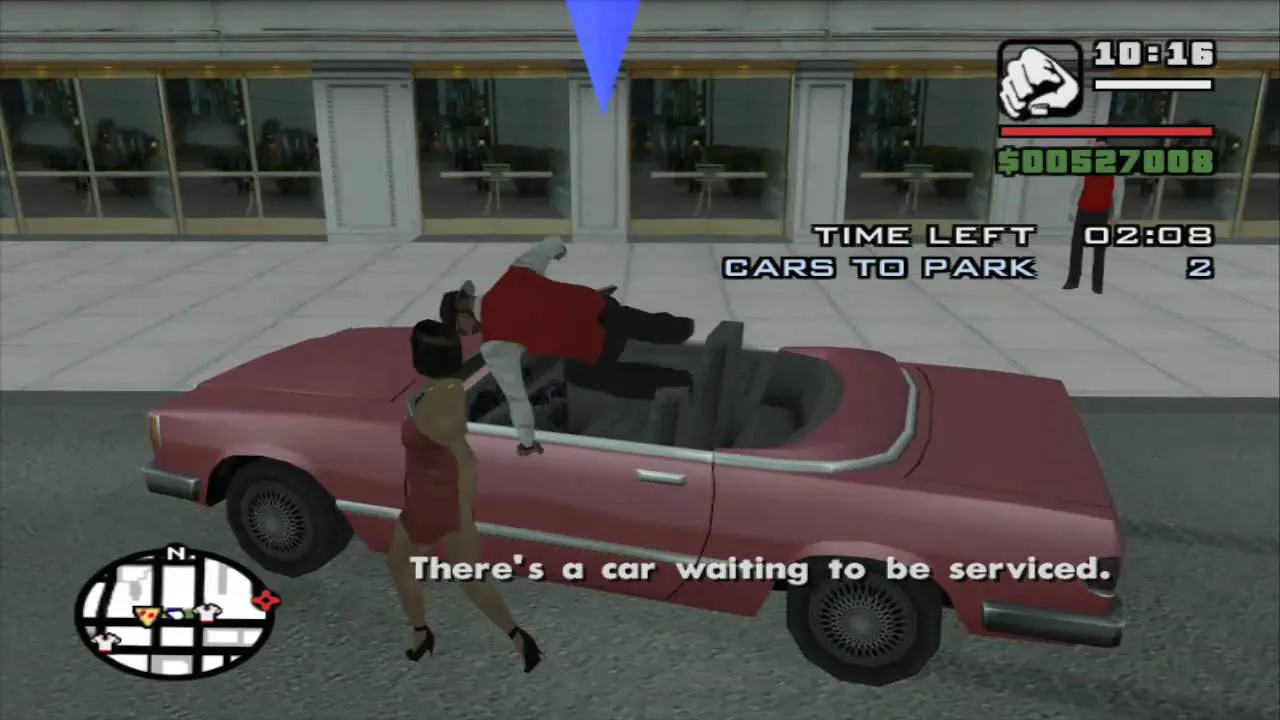 Valet Parking Missions are a Asset Mission in GTA San Andreas. It becomes available after completing 555 We Tip.
Carl works as a valet for the Vank Hoff Hotel.
This is an optional endeavor, but it is required for 100% completion of the game. It's not time-sensitive, meaning it can be played at any point, even after the main storyline is completed.
Valet Parking Missions -
Asset Mission

Details:

The Valet Parking Mission is a side-mission present in Grand Theft Auto: San Andreas, available at the Vank Hoff Hotel in Financial, San Fierro, north of the Big Pointy Building.

The player can access the mission after 555 We Tip by wearing the Valet Uniform and walking into the red marker at the front of the hotel. The mission's objective is to collect a hotel patron's vehicle and drive it to the underground parking lot. The player starts with 2 minutes on the timer and gains time bonuses for every car parked, up to 45 extra seconds for not damaging the car and 13 extra seconds for parking straight between the lines.

Other valets are also present and will collect cars if Carl is not quick enough to get to them first - they can be killed to remove competition but doing so inquires a 20-second penalty.
VaLET Parking Missions: Levels
There are 5 mission levels, each requiring more cars to be parked in 2 minutes. They award an increasing amount of money and completing them all unlocks the Vank Hoff Hotel as an asset, generating up to $2000 per day.
Level 1: Park three cars in 2 minutes (Reward $100)
Level 2: Park four cars in 2 minutes (Reward $200)
Level 3: Park five cars in 2 minutes (Reward $300)
Level 4: Park six cars in 2 minutes (Reward $400)
Level 5: Park seven cars in 2 minutes (Reward $500)
Valet Parking Missions: Mission Info
Mission Type

Asset Mission

Location

Vank Hoff Hotel, Financial

State / Area

San Fierro

Available After Mission (Story Mode)

Required for 100%

Yes
Rewards

$1500

Featuring

Vank Hoff Hotel
Valet Parking Missions: Video Walkthrough
Original Game Walkthrough (PS2, Xbox, PC):
The Definitive Edition Remaster Walkthrough: