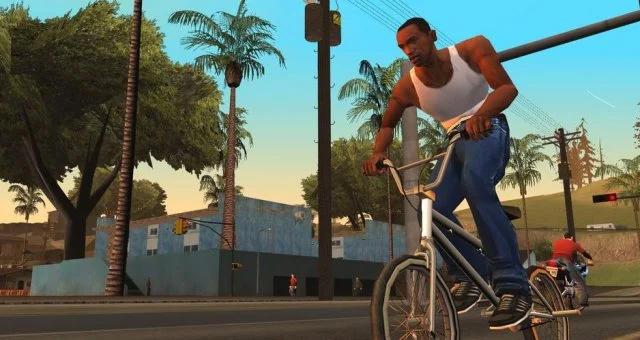 Courier Missions are a Side Mission in GTA San Andreas. It becomes available after completing King in Exile.
Carl delivers various packages across the state of San Andreas for different companies.
This is an optional endeavor, but it is required for 100% completion of the game. It's not time-sensitive, meaning it can be played at any point, even after the main storyline is completed.
Courier Missions - Mission Details:
The Courier Missions are activated by hopping onto a specific two-wheel vehicle parked outside of the available outlets. In the mission, the player has to deliver bags of substance to designated places throughout the city by throwing them trough coronas, similarly to drive-by shootings. After delivering a package, Carl must return to the outlet to collect a commission and grab another set of bags to deliver.
The vehicle is always parked outside the store and the player can run the mission endlessly for extra cash.
Courier Missions: Outlets
There are three different locations available for the Courier Missions, one in each of the three cities:
Location: Commerce, Los Santos, near Pershing Square and the Los Santos Conference Center
Vehicle: BMX
Available: unlocked from the beginning of the game.
Reward: The business generates $2000 a day after completing its missions
---
Location: Queens, San Fierro
Vehicle: Freeway
Available: Unlocked after completion of The Green Sabre
Reward: The business generates $2000 a day after completing its missions
---
Location: Redsands East, Las Venturas
Vehicle: Faggio
Available: Unlocked after completion of Yay Ka-Boom-Boom
Reward: The business generates $2000 a day after completing its missions
Courier Missions: Mission Info
Mission Type

Asset Mission

Location

Hippy Shopper (San Fierro); Roboi's Food Mart (Los Santos); Burger Shot (Las Venturas)

Available After Mission (Story Mode)

Required for 100%

Yes
Notes

Getting on a specific two-wheeled motorbike/bicycle is required to complete the missions.

Rewards

Varies

Featuring

BMX Faggio Roboi's Food Mart Hippy Shopper Burger Shot
Courier Missions: Video Walkthrough
Original Game Walkthrough (PS2, Xbox, PC):
The Definitive Edition Remaster Walkthrough: