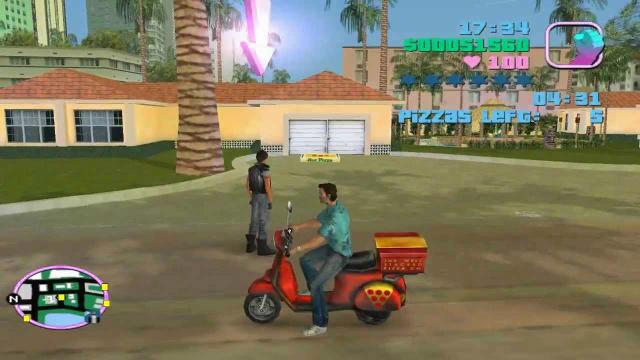 Pizza Boy is a Vehicle Sub-Mission in GTA Vice City.
Deliver pizza for a restaurant.
This is an optional endeavor, but it is required for 100% completion of the game. It's not time-sensitive, meaning it can be played at any point, even after the main storyline is completed.
This side activity is also present in GTA San Andreas.
Pizza Boy - Mission Details:
The Pizza Boy is a side-mission that can be started by mounting a Pizza Boy scooter at any Well Stacked Pizza Co.
In this mission, the player has to deliver pizzas on the delivery scooter to waiting customers on the streets. The player is required to perform a drive-by to deliver the pizzas, throwing them off of the scooter.
Once the player completes delivery for a set of orders, he is required to return to the pizza parlor to restock with pizzas and is elevated to the next level. The player must also return to the parlor when they run out of pizzas, as the scooter can only carry a maximum of 6 boxes at once.
There are 10 levels to complete, each level requiring one extra pizza to be delivered. Completion of all 10 levels is only counted if it is done in a single attempt.
Pizza Boy: Rewards
Completing all 10 levels of the Pizza Boy mission awards the player with:
Maximum health increased to 150
$5,000
Pizza Boy: Tips
Slow down and throw the pizza when the front wheel aligns with the target.
Empty the stack of pizzas completely before a restock (throw them away). There is no penalty for throwing unordered pizzas.
Only a momentary stop is required at the take-out window. When the snide remark is heard, you can leave the window, before the orders appear on the map.
After receiving a set of orders, examine the map to create an optimal route for delivering the pizzas in the quickest time.
Pizza Boy: Mission Info
Mission Type

Vehicle Sub-Mission

Location

Vice Point; Little Haiti; Downtown

Required for 100%

Yes
Rewards

$5,000; Maximum health increased by 50% after level 10

Featuring

Pizza Boy
Pizza Boy: Video Walkthrough
Original Game Walkthrough (PS2, Xbox, PC):
The Definitive Edition Remaster Walkthrough: