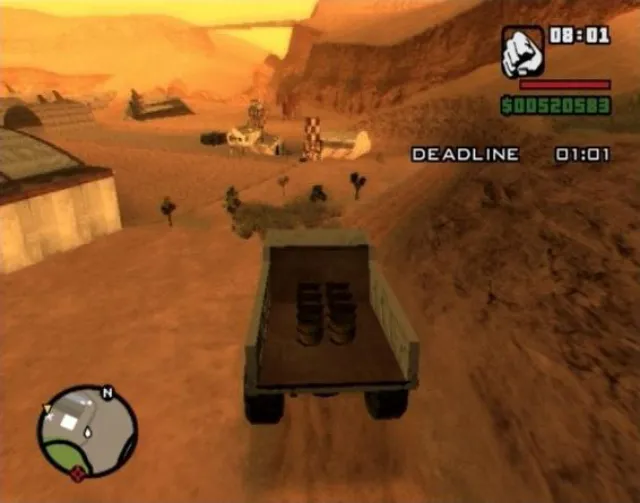 Quarry Missions are a Asset Mission in GTA San Andreas. It becomes available after completing Explosive Situation.
Carl completes several jobs around the quarry.
This is an optional endeavor, but it is required for 100% completion of the game. It's not time-sensitive, meaning it can be played at any point, even after the main storyline is completed.
Quarry Missions -
Asset Mission

Details:

The Quarry Missions are a series of seven missions in which CJ is tasked to work for the Hunter Quarry in Bone County. The mission can be triggered by walking in the red marker at the eastern entrance of the quarry.

The missions involve Carl using Quarry machinery like the Dozer and the Dumper to complete jobs around the quarry. After completion of all 7 missions, the quarry becomes an asset, generating up to $2000 in revenue, and the Dozer and Dumper begin spawning in the Quarry. Completion of these missions is required for 100% Game Completion.
Hunter Quarry: Missions
Mission 1
Use the bulldozer to clear the paths before the next delivery arrives.
Reward: $500
You have 6 minutes to push all the rocks to the designated locations using the Dozer in order to make way for the next delivery.
---
Mission 2
Bombs have been planted by a rival organization. Use the bulldozer to push the bombs to safe area markers.
Reward: $1000
Use the Dozer to push the bomb barrels in the designated safe area.
---
Mission 3
The bombers are escaping in a dumper. Use this dumper to destroy it before they reach their destination.
Reward: $2000
Use a Dumper to chase the rival vehicle. You have 2 minutes, so doing a drive-by is the best option to eliminate the bombers.
---
Mission 4
The bombers have been caught. Their bodies are loaded on a dumper at the quarry's other entrance. Dump them before the cops come snooping.
Reward: $3000
Drive the Dumper carefully to dispose of the bodies into the fire. Using the tipper or bumping into anything dislodges the bodies and fails the mission.
---
Mission 5
The dumper is loaded with explosives and needs to be driven gently. Deliver the explosives to the desert airstrip.
Reward: $5000
Drive the Dumper carefully to transport the explosives without dropping them. If they fall out of the truck, they will blow up both the truck and Carl.
---
Mission 6
A dumper has spilled its load of explosives along the train tracks. Use the bulldozer to clear them before the next train passes.
Reward: $7500
Use the Dozer to clean out the explosives off of the train tracks.
---
Mission 7
A cop has been killed. Use the bulldozer in the quarry to get rid of the body before more cops come snooping.
Reward: $10000
Use a Crane and a Dozer to load the bike and the cop on the Dumper. Afterward, head to the river and dump the policeman and his bike in the water to dispose of them.
Quarry Missions: Mission Info
Mission Type

Asset Mission

Location

Hunter Quarry

State / Area

Bone County

Available After Mission (Story Mode)

Required for 100%

Yes
Quarry Missions: Video Walkthrough
Original Game Walkthrough (PS2, Xbox, PC):
The Definitive Edition Remaster Walkthrough: