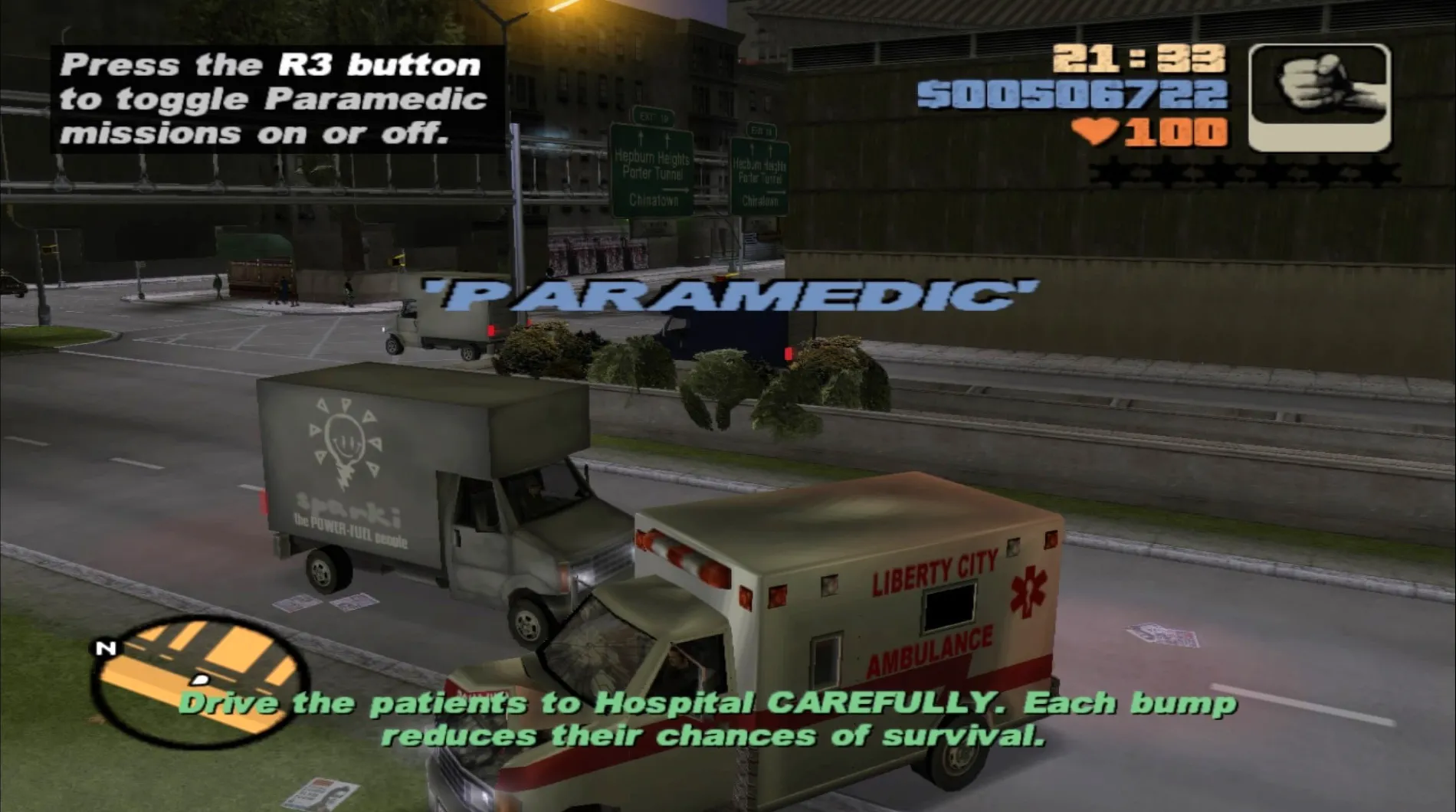 Paramedic is a Vehicle Sub-Mission in Grand Theft Auto III.
Deliver patients to the hospital.
This is an optional endeavor, but it is required for 100% completion of the game. It's not time-sensitive, meaning it can be played at any point, even after the main storyline is completed.
This side activity is also present in GTA San Andreas and GTA Vice City.
Paramedic - Mission Details:
The Paramedic side mission can be toggled on or off at any time while driving an Ambulance.
The player has to locate, pick up and deliver patients to the hospital within a time limit. The hospital is always the closest to where the player started the side mission, and each new level adds one new patient to collect.
The Ambulance can carry up to three patients at a time, meaning multiple trips to the hospital will be required for higher levels.
The side mission can be failed by leaving the Ambulance, if the Ambulance gets destroyed, or by killing a patient. A patient can be killed from driving the Ambulance too recklessly. Failing the missions requires the player to begin from level 1.
It is strongly advised to complete the Paramedic mission as soon as possible in Portland or Staunton Island. The more you progress through the story, the more gangs will become hostile to you, which will make it a lot harder to complete this mission.
Paramedic: Reward
Every level awards the player with an amount of money, calculated by the formula $100 × x2, where x is the current level. Therefore, the player receives $100 for level 1, $400 for level 2, up to $14,400 for level 12.
There are additional rewards for reaching certain milestones in the Paramedic side-mission.
Rescuing 43 patients will have a health pickup be present at all safehouses.
Rescuing 78 patients will have an Adrenaline pickup be present at all safehouses.
Completing level 12 will award the player with infinite sprint.
Paramedic: Level Rewards
| Level | Reward |
| --- | --- |
| 1 | $100 |
| 2 | $400 |
| 3 | $900 |
| 4 | $1,600 |
| 5 | $2,500 |
| 6 | $3,600 |
| 7 | $4,900 |
| 8 | $6,400 |
| 9 | $8,100 |
| 10 | $10,000 |
| 11 | $12,100 |
| 12 | $14,400 |
| TOTAL | $65,000 |
Paramedic: Mission Info
Rewards

Varies each level

Featuring

Ambulance
Paramedic: Video Walkthrough
Original Game Walkthrough (PS2, Xbox, PC):
The Definitive Edition Remaster Walkthrough: