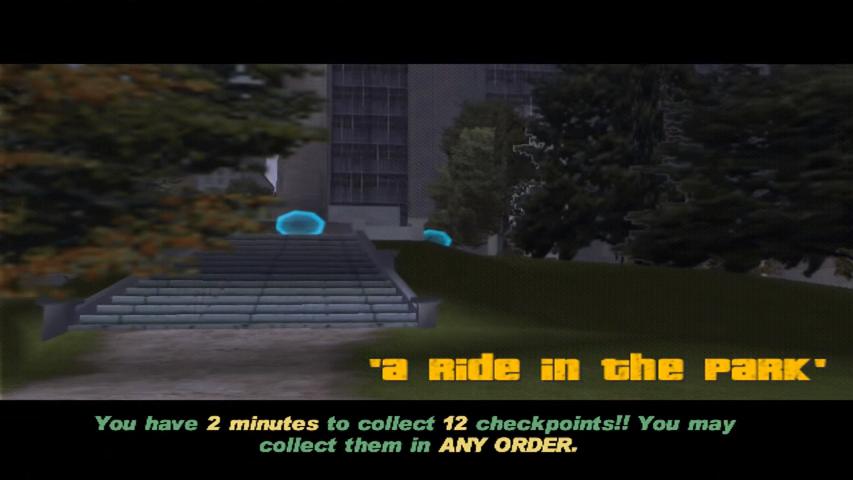 A Ride in the Park is a Side Mission in Grand Theft Auto III. It becomes available after completing Last Requests.
This is an optional endeavor, but it is required for 100% completion of the game. It's not time-sensitive, meaning it can be played at any point, even after the main storyline is completed.
A Ride in the Park - Mission Details:
Drive through 12 checkpoints at the park.
The "A Ride in the Park" side-mission is an off-road mission, where the player has to collect 12 checkpoints before the time runs out. The mission is triggered by entering the parked Landstalker near the barn in Belleville Park.
A timer starts once the first checkpoint is collected, and every checkpoint hit adds a 10-second bonus to the timer, up to 120 second to complete the mission.
The reward for completing the mission successfully is $30.000.
A Ride in the Park: Walkthrough
This is the optimal route to take for completing the mission in time.
A Ride in the Park: Mission Info
Mission Type

Optional (Side Mission)

Location

Belleville Park

State / Area

Staunton Island

Available After Mission (Story Mode)

Required for 100%

Yes
Rewards

$30,000

Featuring

Landstalker
A Ride in the Park: Video Walkthrough
Original Game Walkthrough (PS2, Xbox, PC):
The Definitive Edition Remaster Walkthrough:
Coming soon.