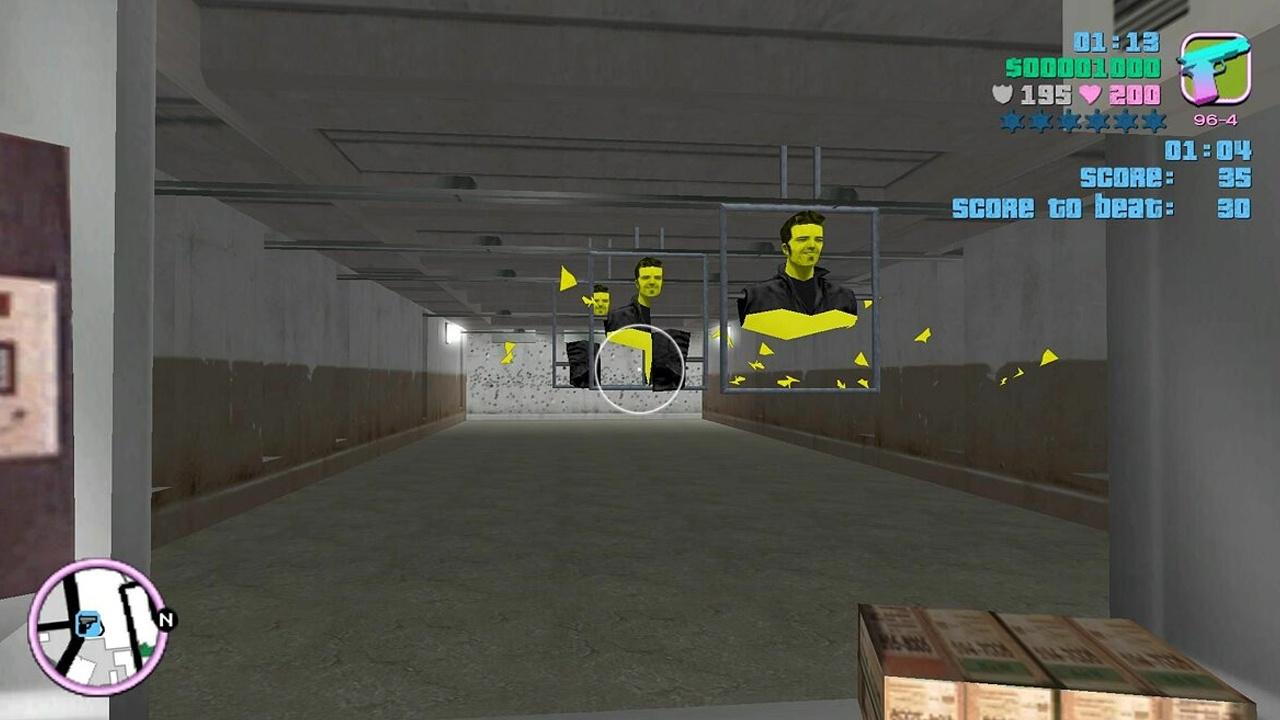 Ammu-Nation Shooting Range are a Side Mission in GTA Vice City. It becomes available after completing The Shootist.
Take down as many targets as you can within a short time limit.
This is an optional endeavor, but it is required for 100% completion of the game. It's not time-sensitive, meaning it can be played at any point, even after the main storyline is completed.
Ammu-Nation Shooting Range - Mission Details:
The Ammu-Nation Shooting Range is an activity available in Grand Theft Auto: Vice City at the Downtown Vice City Ammu-Nation.
In the Shooting Range, the player is given a pistol with 100 rounds of ammunition and is tasked with acquiring at least 30 points in a time limit in first-person view.
Three targets, each with 5 shootable sections will move side to side - the first one is the closest, the fastest and is worth one point, the middle one is slower and is worth two points, while the last one is slow-moving and worth three points. To gain the points value of a target, the player needs to shoot all 5 sections of it.
Although the mission can be completed with 30 points (and will award $500), 45 or more points are required for 100% completion, while also unlocking faster reload speed for all weapons.
Ammu-Nation Shooting Range: Activity Info
Mission Type

Optional (Side Mission)

Location

Downtown Vice City Ammu-Nation

Available After Mission (Story Mode)

Required for 100%

Yes
Notes

The score achieved in "The Shootist" is separate from this mission and does not count for 100% completion

Rewards

$500 for over 30 points

Featuring

Pistol (Colt .45)
Ammu-Nation Shooting Range: Video Walkthrough
Original Game Walkthrough (PS2, Xbox, PC):
The Definitive Edition Remaster Walkthrough: